The Effectiveness of Telenursing on The Patient's Quality of Life: A Review
Keywords:
Effectiveness, Quality of Life, Telenursing.
Abstract
COVID-19 is a pandemic case that has occurred throughout the world, resulting in restrictions on human activity in all areas, including health services, so that telenursing is one of the long-distance health service solutions in providing interventions. Improved quality of life is an indicator of successful intervention in patients. The study aimed to identify the effectiveness of telenursing in patients' quality of life. This study was conducted using a literature review method with the keywords "effectiveness," "quality of life," and "Telenursing." Several databases were used to find articles, including Ebsco, Google Scholar, Pubmed, and ScienceDirect. Selected articles were published from 2015 to 2020 and resulted in 2060 articles. After three selection processes, ten articles were obtained accordingly. Telenursing can be used to improve the quality of life of patients suffering from a variety of medical conditions. Telenursing plays a role in improving patients' quality of life in physical, mental, and social aspects. Various applications such as WhatsApp, Telegram, and Direct Call are used to conduct telenursing. Nurses can use telenursing to give intervention so that patients can improve their quality of life in physical, mental, and social aspects during a pandemic.
References
Amita, D., & Riyanto, A. (2020). Efektivitas Telenursing Terhadap Kadar Gula Darah Penyandang Diabetes Melitus Tipe 2 di Puskesmas Kota Bengkulu. Malahayati Nursing Journal, 2(1), 1–8. https://doi.org/10.33024/manuju.v2i1.2116.
Berwulo, J., Kusumaningsih, I., & Adyatmaka, A. (2020). Efektifitas Telenursing Terhadap Kepatuhan Minum Obat Pada Pasien Malaria Di Puskesmas Wilayah Kerja Dinas Kesehatan Kabupaten Mimika. Jurnal Kesehatan, 7(2), 111–123. https://doi.org/10.35913/jk.v7i2.159.
Dadgari, F., Hoseini, S., Aliyari, S., & Masoudi, S. (2017). The effect of sustained nursing consulting via telephone (Tele Nursing) on the quality of life in hypertensive patients. Applied Nursing Research, 35.
Fadhila, R., & Afriani, T. (2019). Penerapan Telenursing Dalam Pelayanan Kesehatan: Literature Review. Jurnal Keperawatan Abdurrab, 3(2), 77–84. https://doi.org/10.36341/jka.v3i2.837.
Goudarzian, M., Fallahi-Khoshknab, M., Dalvandi, A., Delbari, A., & Biglarian, A. (2018). Effect of Telenursing on Levels of Depression and Anxiety in Caregivers of Patients with Stroke: A Randomized Clinical Trial. Iranian Journal of Nursing and Midwifery Research, 23, 248.
Handayani, D., Hadi, D. R., Isbaniah, F., Burhan, E., & Agustin, H. (2020). Corona Virus Disease 2019. Jurnal Respirologi Indonesia, 40(2), 119–129. https://doi.org/10.36497/jri.v40i2.101.
Hasrul, M. (2020). Aspek Hukum Pemberlakuan Pembatasan Sosial Berskala Besar (Psbb) Dalam Rangka Penanganan Corona Virus Disease 2019 (Covid-19). Jurnal Legislatif. Retrieved November 30, 2020, from https://journal.unhas.ac.id/index.php/jhl/article/view/10477.
Hosseini, M., & ZiaeiRad, M. (2016). The impact of telenursing consultation by using the social networks to promote the self- efficacy and weight control in patients treating with hemodialysis. Retrieved November 30, 2021, from https://www.ijmrhs.com/abstract/the-impact-of-telenursing-consultation-by-using-the-social-networks-to-promote-the-self-efficacy-and-weight-control-in-p-6558.html.
Iraqi, M., & Ahmadi, Z. (2016). Effect of Telephone Counseling (Telenursing) on the Quality of Life of Patients with Colostomy. Journal of Client-Centered Nursing Care, 2, 123–130.
https://doi.org/10.32598/jccnc.2.2.123
Ohannessian, R., Duong, T. A., & Odone, A. (2020). Global Telemedicine Implementation and Integration Within Health Systems to Fight the COVID-19 Pandemic: A Call to Action. JMIR Public Health and Surveillance, 6(2), e18810. https://doi.org/10.2196/18810.
Pratama, I. W. W., Nurhesti, P. O. Y., & Sulistiowati, M. D. (2019). Pengaruh Telenursing Terhadap Perawatan Diri Pasien Dengan Penyakit Kronis. Coping: Community of Publishing in Nursing, 7(2), 87–96.
Setiawan, H., Khaerunnisa, R. N., Firdaus, F. A., & Heryanto, H. (2020). Telenursing Meningkatkan Kualitas Hidup Pasien Dengan Penyakit Kronis. Jurnal Mutiara Ners, 3(2), 95–104.
Shahrokhi, A., Azimian, J., Amouzegar, A., & Oveisi, S. (2018). Effect of Telenursing on Outcomes of Provided Care by Caregivers of Patients with Head Trauma After Discharge. Journal of Trauma Nursing, 25, 21–25. https://doi.org/10.1097/JTN.0000000000000338.
Smith, A. C., Thomas, E., Snoswell, C. L., Haydon, H., Mehrotra, A., Clemensen, J., & Caffery, L. J. (2020). Telehealth for global emergencies: Implications for coronavirus disease 2019 (COVID-19). Journal of Telemedicine and Telecare, 26(5), 309–313. https://doi.org/10.1177/1357633X20916567.
Tajalli, S., Imani, A., Hamzehkhani, M., Shafiei, E., Fallahi, M., Khalesi, N., & Nourian, M. (2020). Effect of Telenursing on Level of Anxiety in Parents of Hospitalised Premature Neonates in Neonatal Intensive Care Unit. Journal of Clinical and Diagnostic Research. https://doi.org/10.7860/JCDR/2020/42933.13489.
Thomas, S., Mancini, F., Ebenezer, L., Price, J., Carta, T., Cordasco, J., Tedesco, C., & Gillett, S. (2020). Parkinson's disease and the COVID-19 pandemic: Responding to patient need with nurse-led telemedicine. British Journal of Neuroscience Nursing, 16, 131–133. https://doi.org/10.12968/bjnn.2020.16.3.131.
Wosik, J., Fudim, M., Cameron, B., Gellad, Z. F., Cho, A., Phinney, D., Curtis, S., Roman, M., Poon, E. G., Ferranti, J., Katz, J. N., & Tcheng, J. (2020). Telehealth transformation: COVID-19 and the rise of virtual care. Journal of the American Medical Informatics Association, 27(6), 957–962. https://doi.org/10.1093/jamia/ocaa067.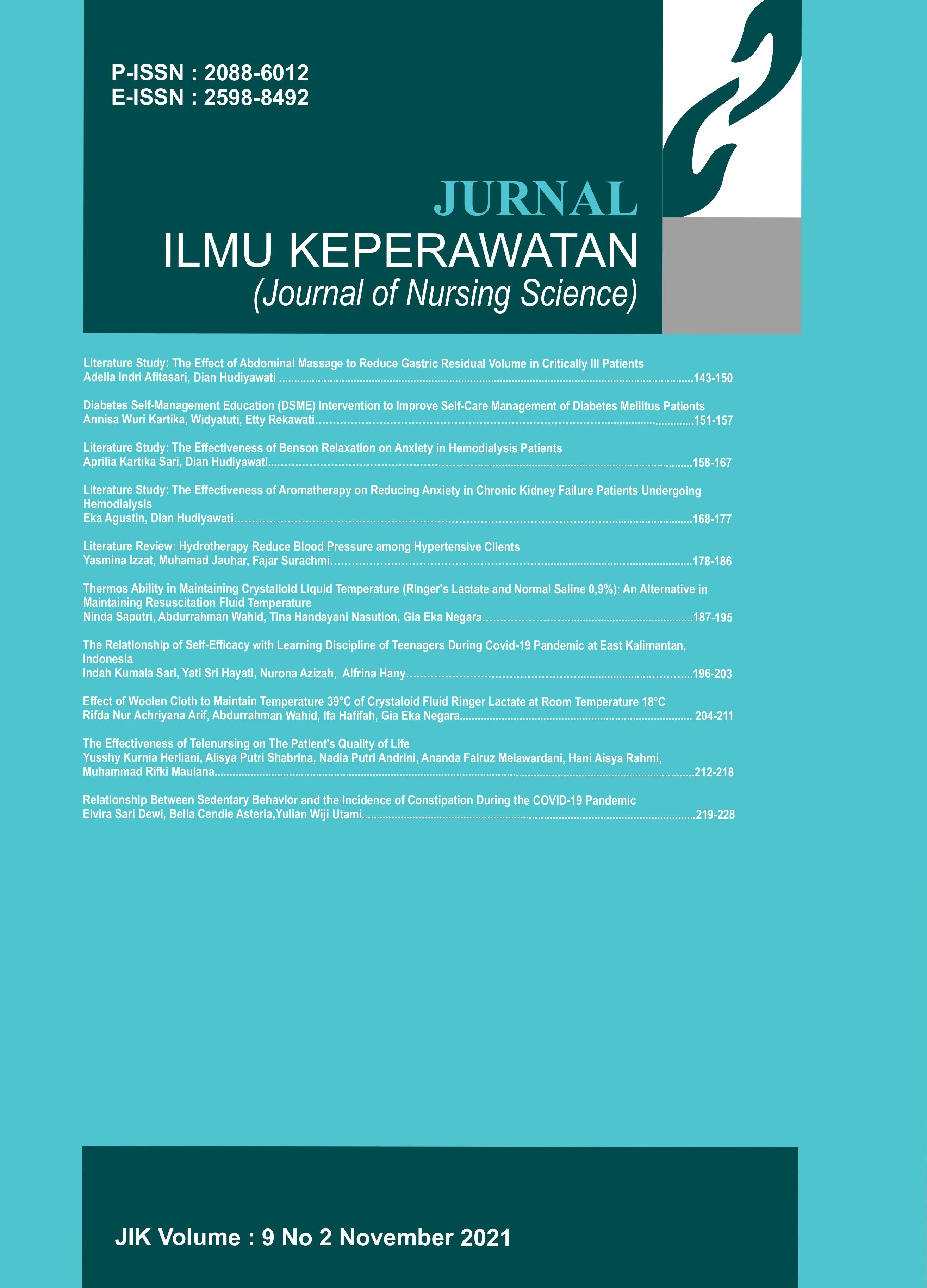 Downloads
License
The authors who publish their articles in Jurnal Ilmu Keperawatan (Journal of Nursing Science) must approve the copyright statement as follows :
 
1. The authors agree to automatic transfer of the copyright to the publisher
2. All material contained in this site is protected by law.
3. If you find one or more articles contained in the journal that violate or potentially infringe your copyright, please contact us via email jkn@ub.ac.id
4. The formal legal aspect of access to any information and articles contained in this journal site refers to the terms of the Creative Commons Attribution-nonCommercial 4.0 International (CC BY NC) license. This allows authors and others to share (copy and redistribute the material in any medium or fomat) and adapt (remix, transform, and build upon the material) for non-commercial purposes.
4. All Information contained in the journal is academic. The journal is not liable for any losses incurred by misuse of information from this site.
Para punulis yang mempublikasin artikel nya di jurnal ilmu keperawatan (Journal of Nursing Science) ini harus menyetujui pernyataan hak cipta seperti dibawah ini:
Penulis secara otomatis setuju bahwa hak cipta artikel berada pada penerbit. Seluruh materi yang terdapat dalam situs ini dilindungi oleh undang-undang. .
Apabila anda menemukan satu atau beberapa artikel yang terdapat dalam jurnal ini yang melanggar atau berpotensi melanggar hak cipta yang anda miliki, silahkan menghubungi kami melalui email jkn@ub.ac.id
Aspek legal formal terhadap akses setiap informasi dan artikel yang tercantum dalam situs jurnal ini mengacu pada ketentuan lisensi Creative Commons Attribution (CC BY NC). Penulis dapat menggunakan artikel dalam jurnal ini untuk disebarluaskan untuk kepentingan non-commercial.
Semua Informasi yang terdapat di jurnal ini bersifat akademik. Jurnal ini tidak bertanggung jawab terhadap kerugian yang terjadi karana penyalah gunaan informasi dari situs ini.
 
Jurnal Ilmu Keperawatan is licensed under https://creativecommons.org/licenses/by-nc/4.0/