Factors Affecting Antenatal Care Visit Obedience during the Covid-19 Pandemic in Konawe District, Southeast Sulawesi
Keywords:
Antenatal care, Covid-19 pandemic, Obedience
Abstract
The Covid-19 pandemic impacts both the access and quality of health services resulting in many restrictions on almost all routine services—the coverage of antenatal care visits in Indonesian public health centers decreases. Research on the factors affecting antenatal care visits of pregnant women during the Covid-19 pandemic in the eastern Indonesian population is currently limited. This study aims to analyze the factors affecting ANC visits of pregnant women during the covid-19 pandemic. This research implements a cross-sectional design by conducting the study on the coverage area of Pondidaha Health Center, Konawe, in January 2021. Respondents fulfilling the criteria included pregnant women residing in Konawe, experiencing the third trimester of pregnancy (28−40 weeks), having a personal Maternal-Child Health book, and recording the pregnancy visit at Pondidaha Public Health Center or Integrated healthcare center. The exclusion criteria included a mother who did not complete the questionnaires. The data analysis implements the Spearman rank test. Forty-six respondents participating in this study (with most of Pondidaha's pregnant women) were found to have incomplete ANC visits. Factors affecting incomplete ANC visits included knowledge, attitude, health care system, and health workers' support. The result indicated that the level of knowledge, mothers' attitude, healthcare, and health workers' support significantly indicated the positive outcome of ANC visits during the COVID-19 pandemic. In conclusion, the level of knowledge exhibited the highest correlation to the obedience of ANC visits.
References
Abram, O. O., Posumah, J. H., & Palar, N. (2017). Sistem Pelayanan Kesehatan Puskesmas Akelamo di Kecamatan Sahu Timur Kabupaten Halmahera Barat. Jurnal Administrasi Publik UNSRAT, 3(046), 74775.
Agus, Y., & Horiuchi, S. (2012). Factors influencing the use of antenatal care in rural West Sumatra, Indonesia. BMC Pregnancy and Childbirth, 12(1), 9. https://doi.org/10.1186/1471-2393-12-9.
Astari, A., M., Choiriyah, M., Evi, N., Merdikawati, A., Yuliatun, L., Amaliya, S., Rini, I. S., Fitri, A. A., Raehana, N. U., (2021). Pendampingan Perawat Dalam Optimalisasi Keberlanjutan Perawatan Ibu Nifas Dan Bayi Berat Badan Lahir Rendah (BBLR) Di Rumah. Journal of Innovation and Applied Technology, 7(2), 1256–1262. https://doi.org/10.21776/ub.jiat.2021.006.02.6.
Awaliyah, D. N. (2018). Analisis Faktor yang Berhubungan dengan Cakupan Kunjungan Pemeriksaan Kehamilan K4 di Wilayah Kerja Public Health Center Lara Kecamatan Baebunta [Diploma, Universitas Islam Negeri Alauddin Makassar]. http://repositori.uin-alauddin.ac.id/13574/.
Azwar, S. (2012). Penyuluhan Skala Psikologi. Pustaka Belajar.
Budiman, & Riyanto, A. (2013). Kapita Selekta Kuesioner: Pengetahuan dan Sikap dalam Penelitian Kesehatan/Budiman. Salemba Medika.
Citrawati, N. K., & Laksmi, I. G. A. P. S. (2021). Hubungan Pengetahuan Ibu Hamil Tentang ANC Terhadap Kunjungan ANC Di Puskesmas Tampaksiring II. Jurnal Keperawatan Sriwijaya, 8(2), 19-26.
Du, L., Gu, Y. B., Cui, M. Q., Li, W. X., Wang, J., Zhu, L. P., & Xu, B. (2020). [Investigation on demands for antenatal care services among 2 002 pregnant women during the epidemic of COVID-19 in Shanghai]. Zhonghua Fu Chan Ke Za Zhi, 55(3), 160–165. https://doi.org/10.3760/cma.j.cn112141-20200218-00112.
Faradhika, A. (2019). Analisis Faktor Kunjungan Antenatal Care (ANC) Berbasis Teori Transcultural Nursing Di Wilayah Kerja Public Health Center Burneh. Skripsi Tesis. Universitas Airlangga.
Fitrayeni, F., Suryati, S., & Faranti, R. M. (2017). Penyebab Rendahnya Kelengkapan Kunjungan Antenatal Care Ibu Hamil Di Wilayah Kerja Public Health Center Pegambiran. Jurnal Kesehatan Masyarakat Andalas, 10(1), 101. https://doi.org/10.24893/jkma.v10i1.170.
Ii, F. Q. S., Horace-Kwemi, E., Najjemba, R., Owiti, P., Edwards, J., Shringarpure, K., Bhat, P., & Kateh, F. N. (2017). Effects of the 2014 Ebola outbreak on antenatal care and delivery outcomes in Liberia: A nationwide analysis. Public Health Action, 6.
Kementerian Kesehatan RI. (2019). Profil Kesehatan Indonesia Tahun 2019. (n.d.). https://pusdatin.kemkes.go.id/resources/download/pusdatin/profil-kesehatan-indonesia/Profil-Kesehatan-indonesia-2019.pdf.
Kementerian Kesehatan RI. (2019). Profil Kesehatan Kota Kendari Tahun 2019. Kementerian Kesehatan Republik Indonesia.
Kementerian Kesehatan Republik Indonesia. (2020). Pedoman Pelayanan Antenatal, Persalinan, Nifas, Dan Bayi Baru Lahir. Kementerian Kesehatan Republik Indonesia.
Mandriwati, G. A., Ariani, N. W., & Harini, R. T. (2017). Asuhan Kebidanan Kehamilan. Berbasis Kompetensi.
Nirmala, N., Sari, L., & Ekasari, F. (2014). Hubungan Pengetahuan, Dukungan Suami Dan Dukungan Tenaga Kesehatan Dengan Kunjungan Antenatal Care Di Puskesmas Kotabumi Udik Lampung Utara Tahun 2014. Jurnal Dunia Kesmas, 3(2), Article 2. https://doi.org/10.33024/jdk.v3i2.394.
Nur, R., Radiah, St., Aulia, U., Rahma Dwilarasati, R., Patui, N. S., Mantao, E., Hendra, S., Ngemba, H. R., Rusydi, M., & Dominggo, N. P. (2020). Effects of Electronic Technology Antenatal Care (E-ANC) on Midwives and Pregnant Women during the COVID-19 Period. Open Access Macedonian Journal of Medical Sciences, 8(T1), 115–121. https://doi.org/10.3889/oamjms.2020.4923.
Singh, D. R., & Jha, T. (2016). Exploring Factors Influencing Antenatal Care Visit Dropout at Government Health Facilities of Dhanusha District, Nepal. American Journal of Public Health Research, 7.
Sriwahyu, A. (2013). Faktor Yang Berhubungan Dengan Pemanfaatan Antenatal Care (ANC) Di Wilayah Kerja Public Health Center Kecamatan Lawe Sumur Kabupaten Aceh Tenggara Tahun 2013. 89.
Yosefa P, M., Rahmawati, A., & Setiyawati, N. (2018). Faktor-Faktor Yang Mempengaruhi Perilaku Ibu Terhadap Ketepatan Kunjungan Antenatal Care Di Puskesmas Rekas Kabupaten Manggarai Barat Nusa Tenggara Timur Tahun 2017 [Skripsi, Poltekkes Kemenkes Yogyakarta]. http://poltekkesjogja.ac.id.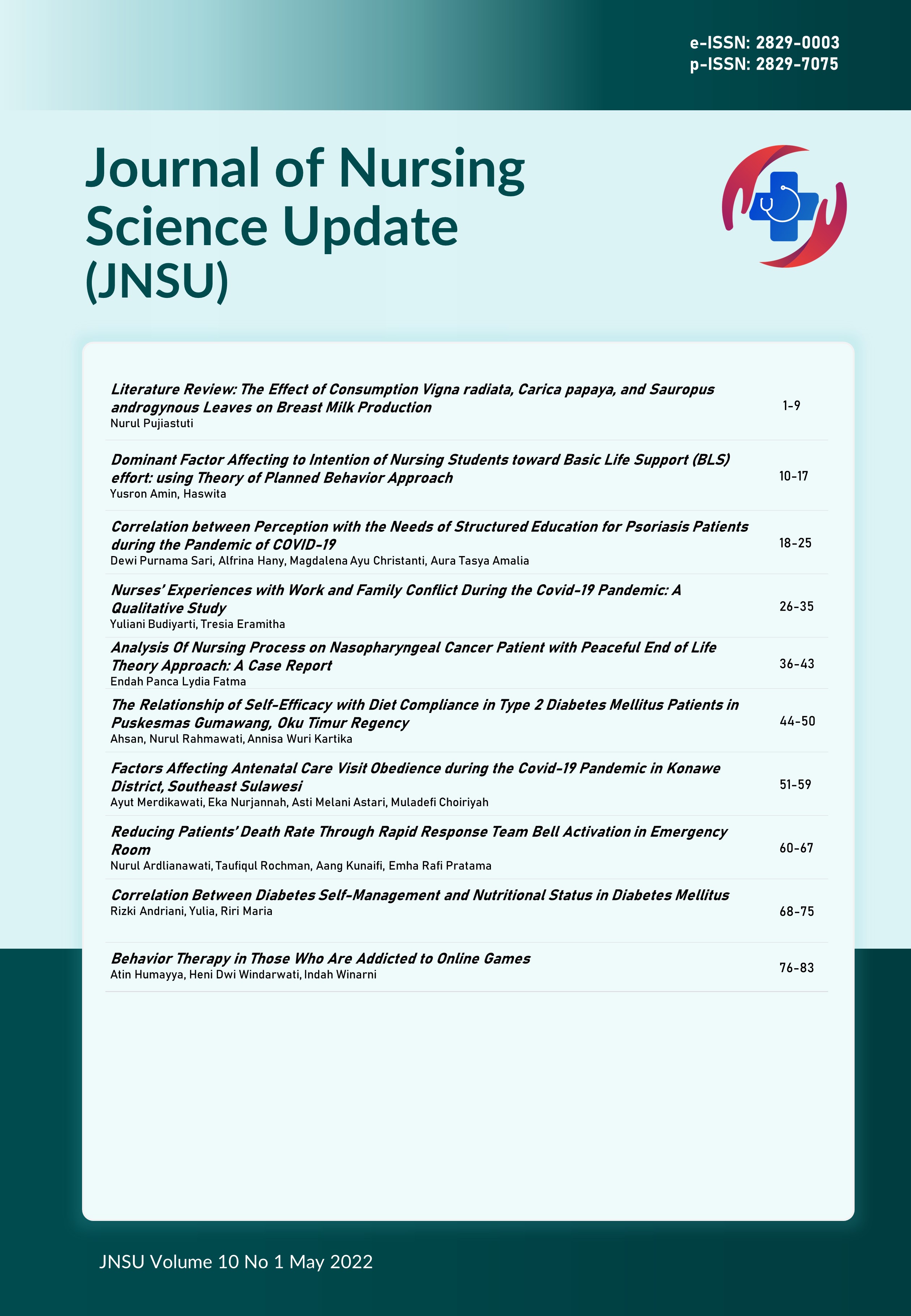 Downloads
License
Copyright (c) 2022 Journal of Nursing Science Update
This work is licensed under a Creative Commons Attribution-NonCommercial 4.0 International License.
The authors who publish their articles in Jurnal Ilmu Keperawatan (Journal of Nursing Science) must approve the copyright statement as follows :
 
1. The authors agree to automatic transfer of the copyright to the publisher
2. All material contained in this site is protected by law.
3. If you find one or more articles contained in the journal that violate or potentially infringe your copyright, please contact us via email jkn@ub.ac.id
4. The formal legal aspect of access to any information and articles contained in this journal site refers to the terms of the Creative Commons Attribution-nonCommercial 4.0 International (CC BY NC) license. This allows authors and others to share (copy and redistribute the material in any medium or fomat) and adapt (remix, transform, and build upon the material) for non-commercial purposes.
4. All Information contained in the journal is academic. The journal is not liable for any losses incurred by misuse of information from this site.
Para punulis yang mempublikasin artikel nya di jurnal ilmu keperawatan (Journal of Nursing Science) ini harus menyetujui pernyataan hak cipta seperti dibawah ini:
Penulis secara otomatis setuju bahwa hak cipta artikel berada pada penerbit. Seluruh materi yang terdapat dalam situs ini dilindungi oleh undang-undang. .
Apabila anda menemukan satu atau beberapa artikel yang terdapat dalam jurnal ini yang melanggar atau berpotensi melanggar hak cipta yang anda miliki, silahkan menghubungi kami melalui email jkn@ub.ac.id
Aspek legal formal terhadap akses setiap informasi dan artikel yang tercantum dalam situs jurnal ini mengacu pada ketentuan lisensi Creative Commons Attribution (CC BY NC). Penulis dapat menggunakan artikel dalam jurnal ini untuk disebarluaskan untuk kepentingan non-commercial.
Semua Informasi yang terdapat di jurnal ini bersifat akademik. Jurnal ini tidak bertanggung jawab terhadap kerugian yang terjadi karana penyalah gunaan informasi dari situs ini.
 
Jurnal Ilmu Keperawatan is licensed under https://creativecommons.org/licenses/by-nc/4.0/