NURSES EXPERIENCE IN IMPLEMENTING A TRIAGE ON MASS VISITATION IN THE EMERGENCY DEPARTMENT OF NGANJUK DISTRICT HOSPITAL TYPE B
Keywords:
Triage, mass visitation
Abstract
Nganjuk district hospital is the referral hospital in Nganjuk, so the consequences that must be accepted is the potential of a patient mass visitation. Mass visitation is a condition where there are lot of patients arrived at the same time, it can be caused by various causes or diseases that came from a single factor or more. These factors include the increase number of referral patient's arrival, the increase number of patient's arrival at its own initiative, some disaster/accident/plague victims, where they came to the emergency department with different criticalness. There is one question that is very important, which is how one nurse in that is placed in an emergency department of a hospital could perform a triage to handle a number of patients that are coming together. Of course, these conditions will bring an interesting experience to be explored by researchers. This study is a qualitative research that used an interpretative phenomenological approach. A deep interview was involving 4 triage nurses. The data were collected and analyzed by using a thematic analysis approach. The transcript of the interview results was analyzed by using a qualitative analysis, such initial codes were made in each participant's statement and it was interpreted in the form of a theme. The study resulted in four themes, namely Changed Triage Mechanism, Triage System Inadequate-yet, The Expectation of Emergency Room Policy Changing, KIE Advance Strategies. Where finally, these themes are narrowed down to one major theme namely The Spirit of Change in the Middle of Inadequate Triage System in Mass visitation. These description indicates the dynamics of triage nurses in the emergency department of Nganjuk district hospital in the form of a spirit of change in the middle of inadequate triage system that is used to handle a mass visitation.The researchers recommend further research that is directed to influence a triage system on a mass visitation towards the waiting time and mortality number in the emergency department of Nganjuk district hospital. The researchers also suggest that Nganjuk district hospital should create a Standard Operating Procedure (SOP) for the triage system to handle a mass visitation.
 
Keyword : Triage, mass visitation
References
Andersson, A.K Ombeerg, M, Svedlund, M. (2006) Triage In the Emergency Departement - a Qualitative study factor Which Nurses consider When making Decisions. Journal Compilation, Vol. 11, No.3 : 136 – 145.
Bolk, J. E., Mencl, F., Rijswijck, B. T. F. V., Simons, M. P., Vught, A. B. V. (2007). Validation of the emergency severity index (ESI) in self referred patients in a European emergency department. EmergMed J. 24: 170-174.
Braun & Clarke (2006). Using thematic analysis in psychology. Qualitative research in psychology, 3 (2), 77-110. Department by Simulation, Departement Of Emergency Journal : 23 . 321-330.
Direktorat Jenderal Bina Upaya Kesehatan Kementrian Kesehatan RI (2011). Juknis SIRS, Sistem Informasi Rumah Sakit. www.buk.depkes.go.id diakses tangal 7 Agustus 2016
Gerdtz MF, Bucknal TK (2006) Australian Triage Nurses Decision Making and scpe of Practice, Australian Journal of Advanced Nursing 18(1): 24-33
James M. Ryan (2008). Triage; Principes And Presures, Europe Journal Trauma Emergency Surgery : 34. 427-432.
Levvaseur S, Considine J, Charles A, Castle C (2002). Development of Physiological discriminator, for the Australian Triage Scale. ACICD Emergency Nurse, 10: 221- 234
Peraturan Menteri Kesehatan RI Nomor 75 Tahun 2014 tentang sarana dan prasarana Instalasi Gawat Darurat:Jakarta.
Richardson D, Drew B (2006). Increase in patient mortality at 10 days associated with emergency department overcrowding. MJA 184(5)
Robbins, Sthephen P. (2003).Perilaku Organisasi, edisi kesepuluh,PT Indeks.
Speziale, H.J.S and Carpenter, D.R (2007). Qualitative Research In Nursing Advancing The Humanistic Imperative 4th Ed. Philadelpia: Lippincot Williams and Wilkins.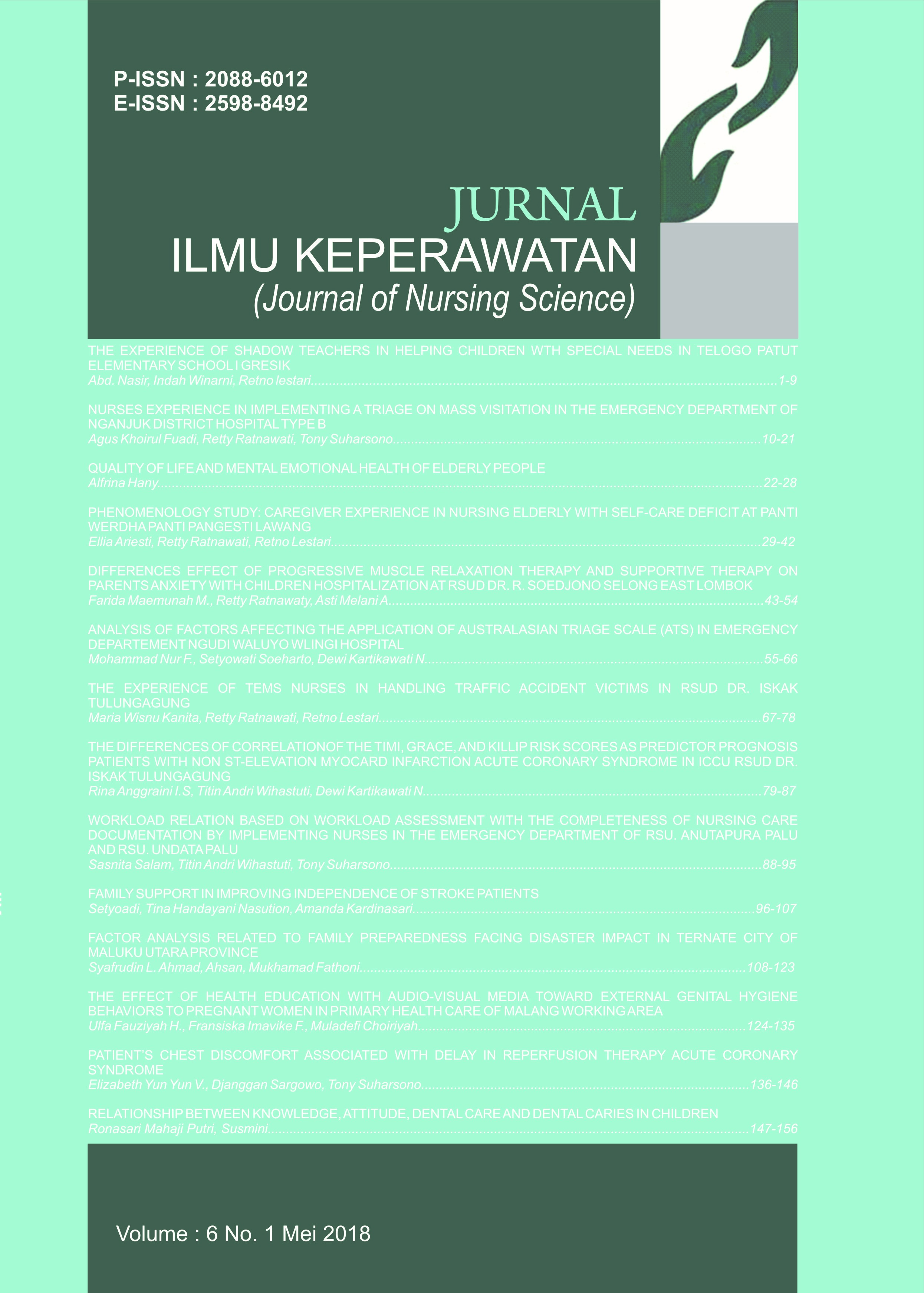 Downloads
License
Authors published in this journal agree to the following terms:
The copyright of each article is held by its author.
Author grants the journal first publication rights with the work simultaneously licensed under the Creative Commons Attribution-NonCommercial 4.0 International License or CC BY-NC 4.0 license, allowing others to share the work with acknowledgment of authorship and initial publication in this journal.
Authors may enter into separate additional contractual agreements for the non-exclusive distribution of the published journal version of the work (for example, posting it to an institutional repository or publishing it in a book), with acknowledgment of their initial publication in this journal.
Authors are permitted and encouraged to post their work online (e.g. in an Institutional Repository or on their website) before and during the submission process, as this can result in a productive exchange, as well as earlier and larger citations of the published work.
Articles and all related material published are distributed under Creative Commons Attribution-NonCommercial 4.0 International License or CC BY-NC 4.0 license.
All articles in this journal are the sole responsibility of the author. Journal of Nursing Science Update (JNSU) provides open access to anyone so that the information and findings in this article are useful for everyone. JNSU can be accessed and downloaded free of charge, free of charge, subject to Creative Commons Attribution-NonCommercial 4.0 International License or CC BY-NC 4.0 license .

JNSU  is licensed under a  Creative Commons Attribution-NonCommercial 4.0 International License or CC BY-NC 4.0 license.