Phenomenology: The Experience of HIV/AIDS Mothers in Self Disclosure to Their Children in Yogyakarta
Keywords:
Mothers' Self-disclosure, HIV/ AIDS, Children
Abstract
In Indonesia, there is 150,296 people with HIV AIDS. The prevention efforts is increased by awareness of the sufferer's. They can do self- disclosure about their HIV status with the family. However, mothers feel afraid to tell their children because of the stigma. They afraid their children will leak their status to others, or become depressed. Whereas the openness of status has a positive impact on mothers, such as providing social support and increasing mother's motivation in caring of their children. The study aimed to determine the experiences of mothers with HIV in self-disclosure to children in Yogyakarta. This study used qualitative research with an interpretive phenomenological approach. Data analysis using Interpretative Phenomenology Analysis. The data collection technique used semi-structured interviews. The sampling technique used purposive sampling with the inclusion criteria: HIV women with 26-45 years and already having children. The number of participants was 5 participants in Yogyakarta. This research got 5 themes to achieve the research objectives. These themes were (1) Feeling "guilty" of children; (2) Trying to rise of life; (3) Trying to let go of the burdens life; (4) Disappointed caused by frightened; (5) Relief of being children acceptance. Self-disclosure is important because it can reduce the burden on clients of people living with HIV AIDS (PLWHA). Self-disclosure to children may increase motivation to live through the ARV treatment. Therefore, the main theme emerged was releasing one's burdens to rise in life
References
Alemayehu, A., Aregay, A., Kalayu and Yebyo, H. (2014). HIV Disclosure to Sexual partner and associated factors among women attending ART Clinic at Mekelle hospital, Northern Ethopia. BMC Public Health 2014,14:746
Ashaba, S., Kaida, A., Burns, B. F., Neil, K. O., Dunkley, E., Psaros, C., … Matthews, L. T. (2017). Understanding coping strategies during pregnancy and the postpartum period : a qualitative study of women living with HIV in rural Uganda. BMC Pregnancy and Childbirth, 17(138), 1–10. https://doi.org/10.1186/s12884-017-1321-9
CDC. (2018). HIV Among Pregnant Women, Infants, And Children. Diakses di Https://Www.Cdc.Gov/Hiv/Group/Gender/Pregnantwomen/Index.Html pada tanggal 2 Desember 2018
Conserve et al. (2014). Disclosure and Impact of Maternal HIV+ Serostatus on Mothers and Children in Rural Haiti. Matern Child Health Journal. December; 18 (10): 2309 – 2315. Doi: 10.1007/s10995-013-1375-x
Dinas Pariwisata. (2019). Perkembangan Pariwisata Yogyakarta. https://pariwisata.jogjakota.go.id/detail/index/428
Id, N. G. D., Hailemichael, R. G., Shewa-amare, A., & Hillman, J. (2019). HIV Disclosure : HIV-positive status disclosure to sexual partners among individuals receiving HIV care in Addis Ababa , Ethiopia. 1–17.
Liamputtong, P and Harivatorn, N. (2014). Tell or not to tell: disclosure to children and familyamongst Thai women living with HIV/AIDS. Health Promot. Int. doi: 10.1093/heapro/dau057. Tersedia dalam http://heapro.oxfordjournals.org/content/early/2014/07/17/heapro.dau057.full.pdf+html diakses tanggal 02 Februari 2016
Madiba & Mokgatle. (2015). Perceptions and Experiences about self disclosure of HIV status among adolescents with perinatal acquired HIV poor resourced communities in South Africa. HIV research and treatment. Volume 2016. Tersedia di https://www.ncbi.nlm.nih.gov/pmc/articles/PMC5031873/pdf/ART2016-2607249.pdf diakses pada tanggal 2 Mei 2018
Pusat Data dan Informasi Kementrian Kesehatan Republik Indonesia. (2014). Situasi dan Analisis HIV AIDS. Tersedia dalam http://www.depkes.go.id/resources/download/pusdatin/infodatin/Infodatin%20AIDS.pdf, diakses tanggal 02 Februari 2016.
Pusdatin. (2020). Situasi dan Analisis HIV AIDS. Tersedia di https://pusdatin.kemkes.go.id/resources/download/pusdatin/infodatin/infodatin-2020-HIV.pdf
Shaw & Hunter. (2012).HIV Transmission. Cold Spring Harb Perpect Med. 2012; 2
Sowell, Seals, Phillips, & Julious. (2003). Disclosure Of HIV Infection: How Do Women Decide To Tell?. Health Education Research. Vol.18 No.1 2003. Pg. 32 – 44
Stutterheim, S. E. (2016). Disclosure of HIV Status to Health Care Providers in the Netherlands : A Qualitative Study. Journal of the Association of Nurses in AIDS Care, 1–10. https://doi.org/10.1016/j.jana.2016.02.014
Visser, M., & Hlungwani, A. J. (2020). Maternal HIV status disclosure to young uninfected children: psychological variables of the mother. African Journal of AIDS Research, 19(1), 48–56. https://doi.org/10.2989/16085906.2019.1681481
Wekesa, Eliud And Coast, Ernestina. (2013). Living With HIV Post-Diagnosis: A Qualitative Study Of The Experiences Of Nairobi Slum Residents. BMJ Open, 3 (E00239). DOI: 10.1136/Bmjopen-2012-002399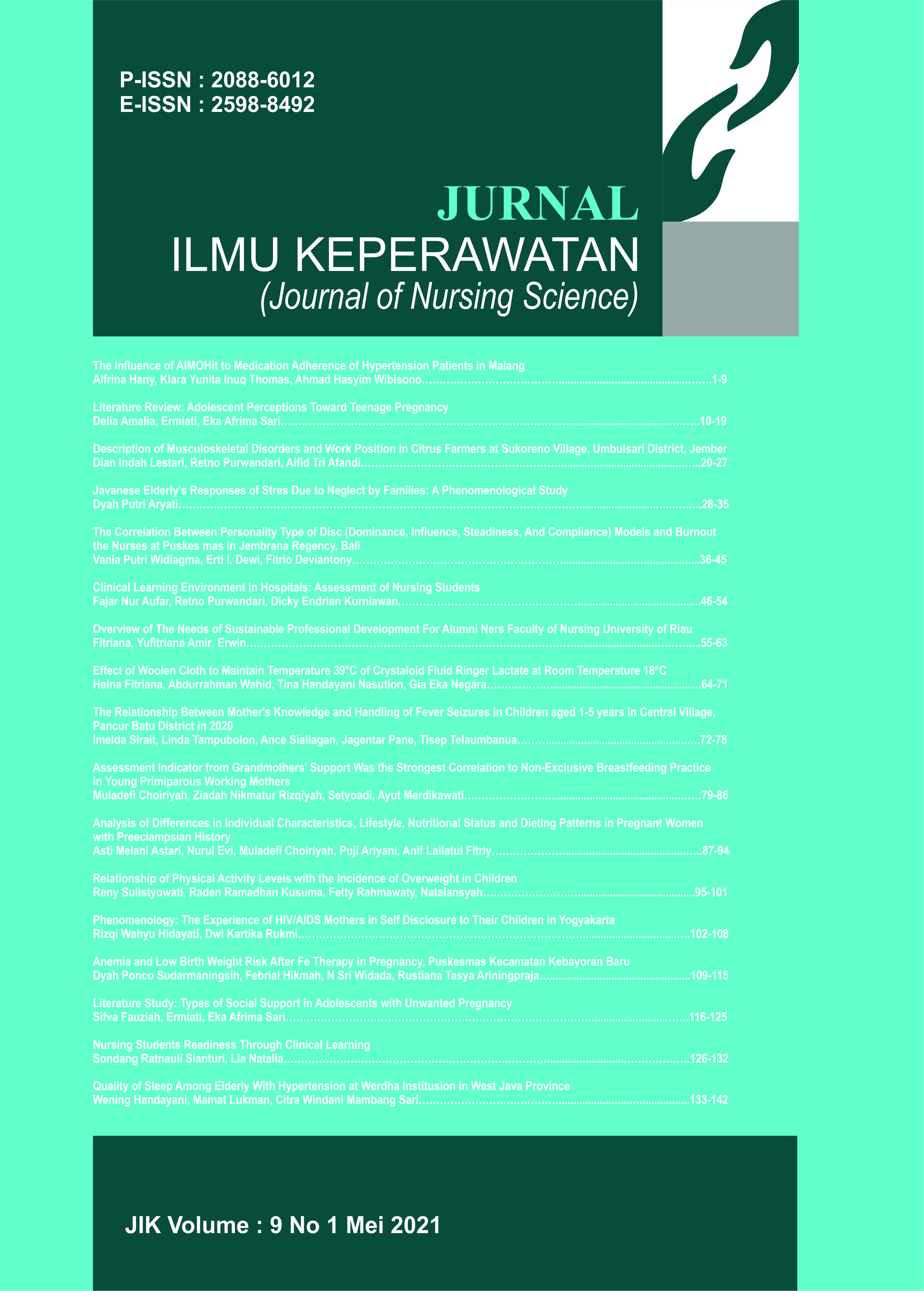 Downloads
License
Authors published in this journal agree to the following terms:
The copyright of each article is held by its author.
Author grants the journal first publication rights with the work simultaneously licensed under the Creative Commons Attribution-NonCommercial 4.0 International License or CC BY-NC 4.0 license, allowing others to share the work with acknowledgment of authorship and initial publication in this journal.
Authors may enter into separate additional contractual agreements for the non-exclusive distribution of the published journal version of the work (for example, posting it to an institutional repository or publishing it in a book), with acknowledgment of their initial publication in this journal.
Authors are permitted and encouraged to post their work online (e.g. in an Institutional Repository or on their website) before and during the submission process, as this can result in a productive exchange, as well as earlier and larger citations of the published work.
Articles and all related material published are distributed under Creative Commons Attribution-NonCommercial 4.0 International License or CC BY-NC 4.0 license.
All articles in this journal are the sole responsibility of the author. Journal of Nursing Science Update (JNSU) provides open access to anyone so that the information and findings in this article are useful for everyone. JNSU can be accessed and downloaded free of charge, free of charge, subject to Creative Commons Attribution-NonCommercial 4.0 International License or CC BY-NC 4.0 license .

JNSU  is licensed under a  Creative Commons Attribution-NonCommercial 4.0 International License or CC BY-NC 4.0 license.