PHENOMENOLOGY STUDY: CAREGIVER EXPERIENCE IN NURSING ELDERLY WITH SELF-CARE DEFICIT AT PANTI WERDHA PANTI PANGESTI LAWANG
Keywords:
Caregiver, Elderly, Self-care Deficit
Abstract
Elderly is the last stage of human growth development and often related to body function derivation which cause helplessness. Self-care deficit was one of the elderly problem and lead to inferiority, high dependecy to caregiver, and critical point during elderly life period. Elderly whom stayed  at nursing home, would depends their self-care to the caregiver because their family could not have abillity to nursing them. This research aim was to explore the caregiver experienced in nursing elderly with self-care deficit at Panti Werdha Panti Pangesti Lawang. Qualitative research design were used, with intepretive phenomenology aprroachment. Data collection technique was depth interview method and semistructured interview guidelines were used. This researh generated ten themes: still fulfilled elderly self-care who were unable to met their necessity, gratefull feeling and not burdened when nursing the elderly, pity and learnt to be patient, tried to aprreciate elderly by didn't show displeasing expression and show responsibility, became angry and force the elderly during nursing period, tried to fulfill all elderly necessities, a lot of energy were needed and teamwork, elder people had their own behavior, willingness to nurse the elderly better and more passionate, were called to nurse the elderly similar to their parents. This condition would lead to frustation, burdened feeling, exhaustion, and stress in caregiver. Conditions above need further prevention from health care provider.
References
Andini, Ayu dan Supriyadi. 2013. Hubungan antara berpikir positif dengan harga diri pada lansia yang tinggal di panti jompo di Bali. Jurnal Psikologi Udayana. Vol. 1 No. 1: 129-137.
Fitria, N. 2009, Prinsip Dasar dan Aplikasi Penulisan Laporan Pendahuluan dan Strategi Pelaksanaan Tindakan Keperawatan. Jakarta : Salemba Medika
Gilbert P., (2010). The Compassionate Mind: A New Approach to Life's Challenges. Constable, London.
Hermanns, M., & Smith, B.M., (2012). Caregiving: A Qualitative Concept Analysis. The Qualitative Report 2012 Volume 17, Article 75, 1-18 http://www.nova.edu/ssss/QR/QR17/hermanns.pdf
Lecovich E, 2008. Caregiving burden, community services, and quality of life of primary Caregivers of frail elderly persons. Journal of Applied Gerontology, 27: 309-330.
Losada A, Pérez-Peñaranda A, Rodriguez-Sanchez E, Gomez-Marcos MA, Ballesteros-Rios C, Ramos-Carrera IR, Campodela TorreMA, García-Ortiz L, 2009. Leisure and distress in Caregivers for elderly patients. Archives of Gerontology and Geriatrics, 50: 347-50.
Nordenfelt, .2009. "The concept of dignity,†in Dignity in Care for Older People, L. Nordenfelt, Ed., Wiley-Blackwell, West Sussex,UK.
Okoye UO., Asa SS. 2011. Caregiving and Stress: Experience of People Taking Care of Elderly Relations in South-eastern Nigeria. Arts and Social Sciences Journal, Volume 2011: ASSJ-29
Reuser M, Bonneux L, WillekensF. 2010.The effect of risk faktors on theduration of cognitive impairment:A multistate life table analysis ofthe U.S. Health and Retirement Survey. Netspar Discussion Paper 01/2010-036
Syam'ani,. 2011. Studi Fenomenologi Tentang Pengalaman Meng-hadapi Perubahan Konsep Diri: Harga Diri Rendah Pada lansia di Kecamatan Jekan Raya Kota Palangkaraya : UI, Jakarta
Söderhamn O, Skisland A, Herrman M. 2011. Self-care and anticipated transition into retirement and later life in a Nordic welfare context. J Multidiscip Healthc.;4:273–279.
Tseng, C.N., Huang, G.S., Jui Yu P., Fang Lou , M., (2015). A Qualitative Study of Family Caregiver Experiences of Managing Incontinence in Stroke Survivors. Journals.plos.org/plosone/article?id=10.1371
Zamanzadeh, V., Jasemi, M., Taleghani, F. (2015). Effective Factors in Providing Holistic Care: A Qualitative Study. Journal Indian Palliatif Care. Doi: 10.4103/0973-1075.156506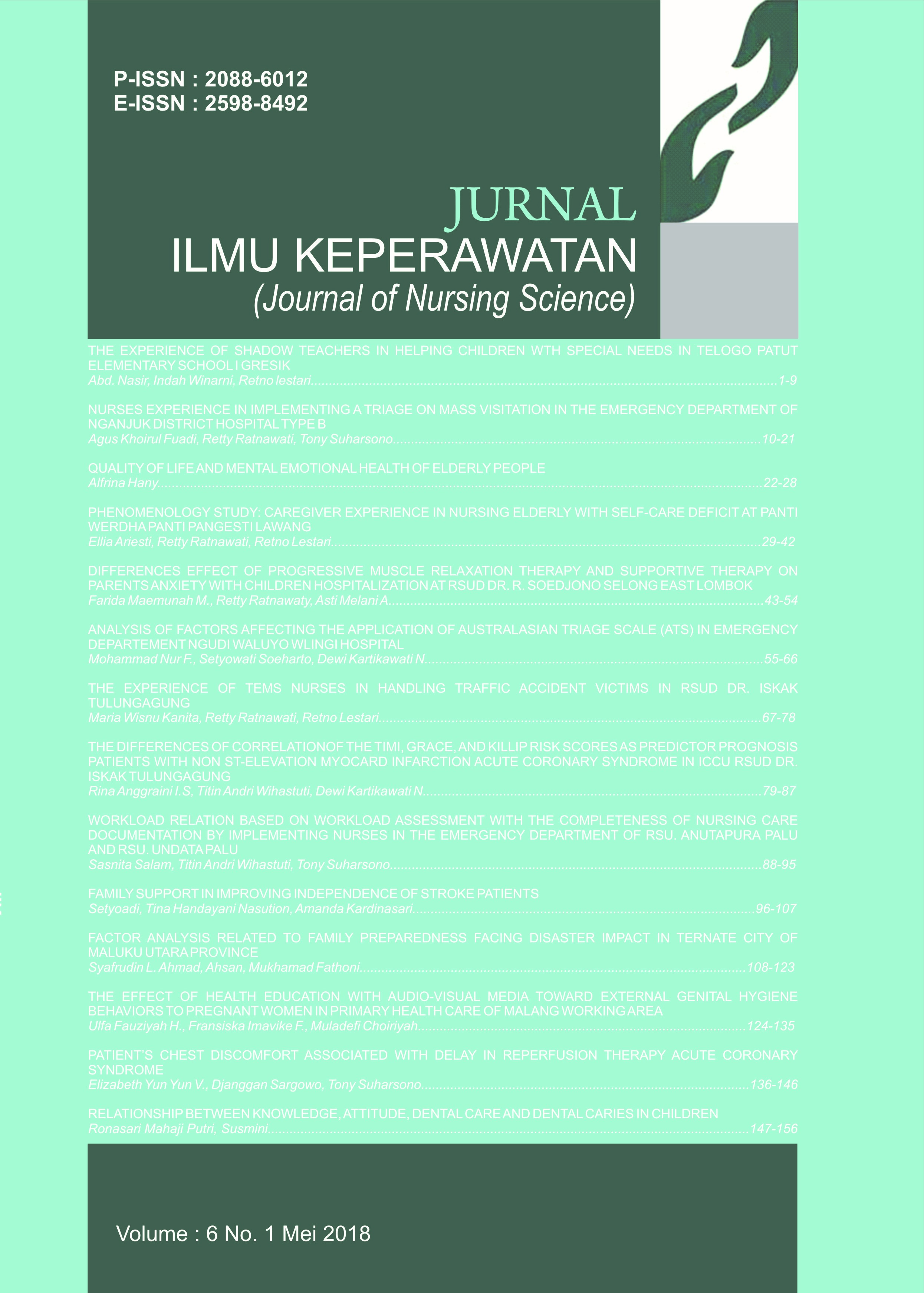 License
Authors published in this journal agree to the following terms:
The copyright of each article is held by its author.
Author grants the journal first publication rights with the work simultaneously licensed under the Creative Commons Attribution-NonCommercial 4.0 International License or CC BY-NC 4.0 license, allowing others to share the work with acknowledgment of authorship and initial publication in this journal.
Authors may enter into separate additional contractual agreements for the non-exclusive distribution of the published journal version of the work (for example, posting it to an institutional repository or publishing it in a book), with acknowledgment of their initial publication in this journal.
Authors are permitted and encouraged to post their work online (e.g. in an Institutional Repository or on their website) before and during the submission process, as this can result in a productive exchange, as well as earlier and larger citations of the published work.
Articles and all related material published are distributed under Creative Commons Attribution-NonCommercial 4.0 International License or CC BY-NC 4.0 license.
All articles in this journal are the sole responsibility of the author. Journal of Nursing Science Update (JNSU) provides open access to anyone so that the information and findings in this article are useful for everyone. JNSU can be accessed and downloaded free of charge, free of charge, subject to Creative Commons Attribution-NonCommercial 4.0 International License or CC BY-NC 4.0 license .

JNSU  is licensed under a  Creative Commons Attribution-NonCommercial 4.0 International License or CC BY-NC 4.0 license.