Effectiveness of Thermos to Maintain the Temperature of Ringer Lactate and Normal Saline 0.9% at AC Temperature 18ËšC
Keywords:
Crystalloid fluids, Flask, Hemorrhagic shock, Temperature
Abstract
Hemorrhagic shock patients require fluid resuscitation, but extra efforts should be made to provide 39 C fluids to avoid hypothermia. One of the media to maintain temperature is a thermos.   The purpose of this research is to identify whether the flasks can keep 39-degree crystalloid fluids at 18 degrees Celsius. This study used a pre-experimental method, with One-Shot Case Study type, 12 bottles of crystalloid liquid was warmed to 39°C, then put into 2 rice flasks, and temperature changes were measured for 6 hours at AC temperature 18˚C. The study was conducted on 30 November 2019.  The findings show that temperatures in 6 bottles of RL liquid decreased by 6.8 -7.4 C and in 6 bottles of NS 0.9% liquid decreased by 5.3 - 6.4 C. Statistical results using the Mann-Whitney p-value is 0,000. It was concluded that there was a significant difference between changes in temperature of lactate Ringer's fluid and normal saline 0,9%. A thermos can maintain a temperature of 39˚C for about 1 hour and can prevent hypothermia from reaching 36˚C for about 3 hours.
References
Campbell, J E, & Alson, RL. (2016). International Trauma Life Support for Emergency Care Providers, 8th edition, USA: Pearson Education.
Gibson, J. L., & Nesbitt, I. D. (2016). Fluid management. 34, 60–65. https://doi.org/10.1016/j.mpsur.2015.11.010.
Harahap, A. M., Kadarsah, R. K., & Oktaliansah, E. (2014). Angka Kejadian Hipotermia dan Lama Perawatan di Ruang Pemulihan pada Pasien Geriatri Pascaoperasi Elektif Bulan Oktober 2011–Maret 2012 di Rumah Sakit Dr. Hasan Sadikin Bandung. Jurnal Anestesi Perioperatif, 2(1), 36–44.
Haynes, William M., ed. (2011). CRC Handbook of Chemistry and Physics (edisi ke-92nd). Hoboken: CRC Press.
Hildebrand, F., Radermarcher, P., Rucholtz, S. (2014). Relevance Of Induced and Accidental Hypothermia After Trauma Haemorrhage What Do We Know From Experimental Models In Pigs? Journal Of Intensive Care Medicine, 1-2
Khikmah, N. (2015). Pengaruh Konsentrasi NaOH dan Laju Alir pada Penentuan Kreatinin Dalam Urin Secara Sequential Injection Analysis. Kimia Student Journal. Vol.1 (1) : 613-615.
Manifold C., & Abraham, H. (2018). Shock: Pathophysiology of Life and Death. In: NAEMT, McSwain N, Salomone J, editors. PHTLS: Prehospital Trauma Life Support. 9th ed. ‎Burlington: Jones & Bartlett Learning.
Medecilo, J., G., G. (2018). Bamboo Thermos: Rice Husk and Bamboo as An Alternative Material. Pdfcoffee.Com. Retrieved November 30, 2020, from https://pdfcoffee.com/bamboo-thermos-rice-husk-and-bamboo-as-an-alternative-material-pdf-free.html.
Nayoko. (2016). Perbandingan Efektifitas Pemberian Cairan Infus Hangat Terhadap Kejadian Menggigil Pada Pasien Sectio Caesaria Di Kamar Operasi. Jurnal Keperawatan Muhammadiyah, 1 (1), 86-92
Putri, L. M. A., Prihandono, T., Supriadi, B. (2017). Pengaruh Konsentrasi Larutan Terhadap Laju Kenaikan Suhu Larutan, Program Studi Pendidikan Fisika FKIP Universitas Jember, Jurnal Pembelajaran Fisika, 6(2), 147- 153.
Kemenkes RI. (2018). Hasil Riset Kesehatan Dasar. Jakarta: Kemenkes RI.
Setyowati, Y., Novitasari, O. T., Febriani, R. F., & Ulya, A. Q. (2017). Termodinamika Pada Termos, Fakultas Pendidikan Matematika, Ilmu Pengetahuan Alam Dan Teknologi Informasi, Semarang: Universitas PGRI.
Steward, R. M. (2018). Advance Trauma Life Support. USA: The Committee on Trauma.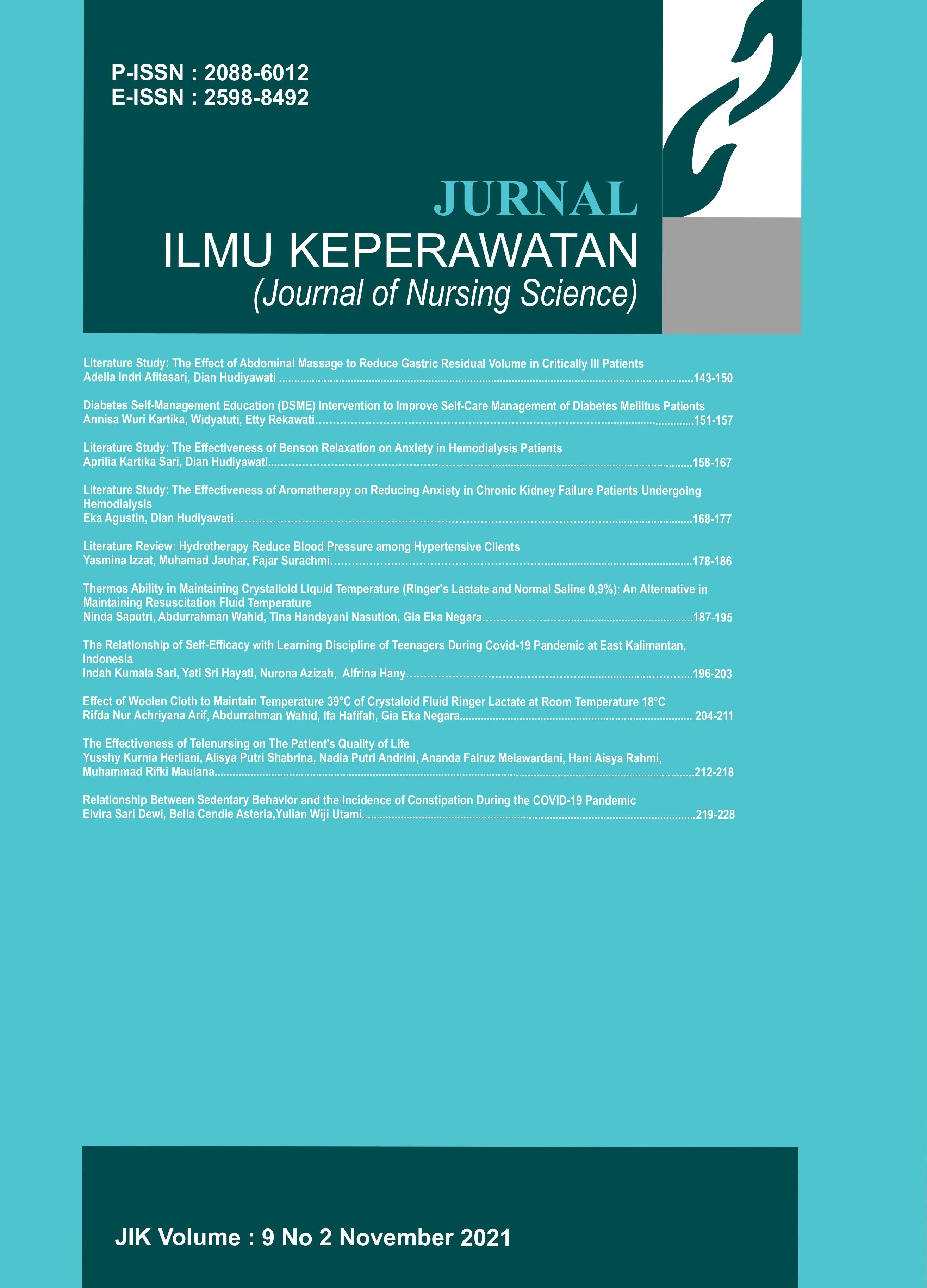 Downloads
License
Authors published in this journal agree to the following terms:
The copyright of each article is held by its author.
Author grants the journal first publication rights with the work simultaneously licensed under the Creative Commons Attribution-NonCommercial 4.0 International License or CC BY-NC 4.0 license, allowing others to share the work with acknowledgment of authorship and initial publication in this journal.
Authors may enter into separate additional contractual agreements for the non-exclusive distribution of the published journal version of the work (for example, posting it to an institutional repository or publishing it in a book), with acknowledgment of their initial publication in this journal.
Authors are permitted and encouraged to post their work online (e.g. in an Institutional Repository or on their website) before and during the submission process, as this can result in a productive exchange, as well as earlier and larger citations of the published work.
Articles and all related material published are distributed under Creative Commons Attribution-NonCommercial 4.0 International License or CC BY-NC 4.0 license.
All articles in this journal are the sole responsibility of the author. Journal of Nursing Science Update (JNSU) provides open access to anyone so that the information and findings in this article are useful for everyone. JNSU can be accessed and downloaded free of charge, free of charge, subject to Creative Commons Attribution-NonCommercial 4.0 International License or CC BY-NC 4.0 license .

JNSU  is licensed under a  Creative Commons Attribution-NonCommercial 4.0 International License or CC BY-NC 4.0 license.