Effectiveness of Thermos to Maintain the Temperature of Ringer Lactate and Normal Saline 0.9% at AC Temperature 18ËšC
Keywords:
Crystalloid fluids, Flask, Hemorrhagic shock, Temperature
Abstract
Hemorrhagic shock patients require fluid resuscitation, but extra efforts should be made to provide 39 C fluids to avoid hypothermia. One of the media to maintain temperature is a thermos.   The purpose of this research is to identify whether the flasks can keep 39-degree crystalloid fluids at 18 degrees Celsius. This study used a pre-experimental method, with One-Shot Case Study type, 12 bottles of crystalloid liquid was warmed to 39°C, then put into 2 rice flasks, and temperature changes were measured for 6 hours at AC temperature 18˚C. The study was conducted on 30 November 2019.  The findings show that temperatures in 6 bottles of RL liquid decreased by 6.8 -7.4 C and in 6 bottles of NS 0.9% liquid decreased by 5.3 - 6.4 C. Statistical results using the Mann-Whitney p-value is 0,000. It was concluded that there was a significant difference between changes in temperature of lactate Ringer's fluid and normal saline 0,9%. A thermos can maintain a temperature of 39˚C for about 1 hour and can prevent hypothermia from reaching 36˚C for about 3 hours.
References
Campbell, J E, & Alson, RL. (2016). International Trauma Life Support for Emergency Care Providers, 8th edition, USA: Pearson Education.
Gibson, J. L., & Nesbitt, I. D. (2016). Fluid management. 34, 60–65. https://doi.org/10.1016/j.mpsur.2015.11.010.
Harahap, A. M., Kadarsah, R. K., & Oktaliansah, E. (2014). Angka Kejadian Hipotermia dan Lama Perawatan di Ruang Pemulihan pada Pasien Geriatri Pascaoperasi Elektif Bulan Oktober 2011–Maret 2012 di Rumah Sakit Dr. Hasan Sadikin Bandung. Jurnal Anestesi Perioperatif, 2(1), 36–44.
Haynes, William M., ed. (2011). CRC Handbook of Chemistry and Physics (edisi ke-92nd). Hoboken: CRC Press.
Hildebrand, F., Radermarcher, P., Rucholtz, S. (2014). Relevance Of Induced and Accidental Hypothermia After Trauma Haemorrhage What Do We Know From Experimental Models In Pigs? Journal Of Intensive Care Medicine, 1-2
Khikmah, N. (2015). Pengaruh Konsentrasi NaOH dan Laju Alir pada Penentuan Kreatinin Dalam Urin Secara Sequential Injection Analysis. Kimia Student Journal. Vol.1 (1) : 613-615.
Manifold C., & Abraham, H. (2018). Shock: Pathophysiology of Life and Death. In: NAEMT, McSwain N, Salomone J, editors. PHTLS: Prehospital Trauma Life Support. 9th ed. ‎Burlington: Jones & Bartlett Learning.
Medecilo, J., G., G. (2018). Bamboo Thermos: Rice Husk and Bamboo as An Alternative Material. Pdfcoffee.Com. Retrieved November 30, 2020, from https://pdfcoffee.com/bamboo-thermos-rice-husk-and-bamboo-as-an-alternative-material-pdf-free.html.
Nayoko. (2016). Perbandingan Efektifitas Pemberian Cairan Infus Hangat Terhadap Kejadian Menggigil Pada Pasien Sectio Caesaria Di Kamar Operasi. Jurnal Keperawatan Muhammadiyah, 1 (1), 86-92
Putri, L. M. A., Prihandono, T., Supriadi, B. (2017). Pengaruh Konsentrasi Larutan Terhadap Laju Kenaikan Suhu Larutan, Program Studi Pendidikan Fisika FKIP Universitas Jember, Jurnal Pembelajaran Fisika, 6(2), 147- 153.
Kemenkes RI. (2018). Hasil Riset Kesehatan Dasar. Jakarta: Kemenkes RI.
Setyowati, Y., Novitasari, O. T., Febriani, R. F., & Ulya, A. Q. (2017). Termodinamika Pada Termos, Fakultas Pendidikan Matematika, Ilmu Pengetahuan Alam Dan Teknologi Informasi, Semarang: Universitas PGRI.
Steward, R. M. (2018). Advance Trauma Life Support. USA: The Committee on Trauma.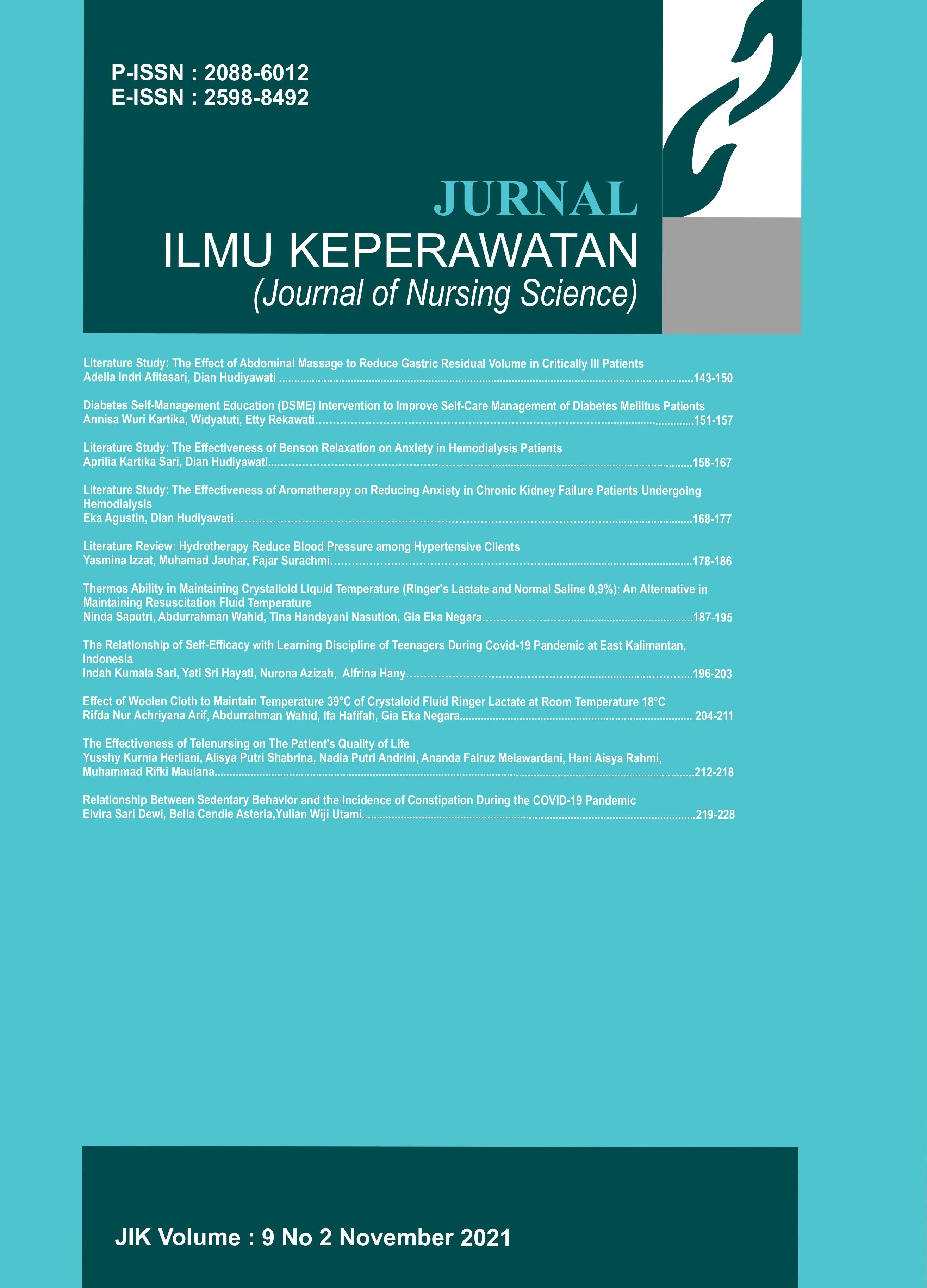 Downloads
License
The authors who publish their articles in Jurnal Ilmu Keperawatan (Journal of Nursing Science) must approve the copyright statement as follows :
 
1. The authors agree to automatic transfer of the copyright to the publisher
2. All material contained in this site is protected by law.
3. If you find one or more articles contained in the journal that violate or potentially infringe your copyright, please contact us via email jkn@ub.ac.id
4. The formal legal aspect of access to any information and articles contained in this journal site refers to the terms of the Creative Commons Attribution-nonCommercial 4.0 International (CC BY NC) license. This allows authors and others to share (copy and redistribute the material in any medium or fomat) and adapt (remix, transform, and build upon the material) for non-commercial purposes.
4. All Information contained in the journal is academic. The journal is not liable for any losses incurred by misuse of information from this site.
Para punulis yang mempublikasin artikel nya di jurnal ilmu keperawatan (Journal of Nursing Science) ini harus menyetujui pernyataan hak cipta seperti dibawah ini:
Penulis secara otomatis setuju bahwa hak cipta artikel berada pada penerbit. Seluruh materi yang terdapat dalam situs ini dilindungi oleh undang-undang. .
Apabila anda menemukan satu atau beberapa artikel yang terdapat dalam jurnal ini yang melanggar atau berpotensi melanggar hak cipta yang anda miliki, silahkan menghubungi kami melalui email jkn@ub.ac.id
Aspek legal formal terhadap akses setiap informasi dan artikel yang tercantum dalam situs jurnal ini mengacu pada ketentuan lisensi Creative Commons Attribution (CC BY NC). Penulis dapat menggunakan artikel dalam jurnal ini untuk disebarluaskan untuk kepentingan non-commercial.
Semua Informasi yang terdapat di jurnal ini bersifat akademik. Jurnal ini tidak bertanggung jawab terhadap kerugian yang terjadi karana penyalah gunaan informasi dari situs ini.
 
Jurnal Ilmu Keperawatan is licensed under https://creativecommons.org/licenses/by-nc/4.0/