Quality of Sleep Among Elderly with Hypertension at Werdha Institusion in West Java Province
Keywords:
Hypertension, Sleep Quality, Elderly
Abstract
Elderly are particularly vulnerable groups that is prone to experiencing a decline in health related to a physiological decline. Vulnerability such as changes in structure of blood vessel walls lead to increased incidence of hypertension. Moreover, in uncontrolled conditions, elderly with hypertension can suffer symptoms of sleeping disorder, changes of sleep pattern that triggers the increasing of blood pressure and affect sleep quality. The purpose of this descriptive quantitative research was to describe the sleep quality of elderly with hypertension based on seven components of sleep quality assessment.  The research design used a descriptive quantitative with a cross-sectional approach. The study was conducted at Ciparay and Garut Elderly Social Rehabilitation Centre, with number of the sample obtained 37 elderlies who were elected by total sampling technique. The result of this study showed that 89,2% of respondents had poor sleep quality. Several conditions that stimulate poor sleep quality in the elderly come from high blood pressure which causes sleep disturbances, thereby changing several sleep components such as short sleep duration less than 6 hours, sleep latency 15-30 minutes, decreased sleep efficiency below 85%, and activity dysfunction in daytime.  Future research is expected to be able to modify sleep quality measuring instruments that are specifically used to measure the quality of sleep for people with hypertension.
References
Alfi, W. N., & Yuliwar, R. (2018). The Relationship between Sleep Quality and Blood Pressure in Patients with Hypertension. Jurnal Berkala Epidemiologi, 6(1), 18. DOI: 10.20473/jbe.v6i12018.18-26
Alim, I. Z. (2013). Uji validitas dan reliabilitas instrumen pittsburgh sleep quality index versi Bahasa Indonesia =Test validity and reliability of the instrument pittsburgh sleep quality index Indonesia language version. Thesis. Universitas Indonesia.
Amanda, H., Prastiwi, S., & Sutriningsih, A. (2016). Hubungan kualitas tidur dengan tingkat kekambuhan hipertensi pada lansia di kelurahan tlogomas Kota Malang Hafiez. Nursing News, 1, 358–368.
Anker, D., Santos-Eggimann, B., Santschi, V., Del Giovane, C., Wolfson, C., Streit, S., Rodondi, N., & Chiolero, A. (2018). Screening and treatment of hypertension in older adults: Less is more? Public Health Reviews, 39(1), 1–16. DOI: 10.1186/s40985-018-0101-z
Azri, M. A., Dahlan, A., Masuri, M. G., & Isa, K. A. M. (2016). Sleep Quality among Older Persons in Institutions. Procedia - Social and Behavioral Sciences, 234, 74–82. DOI: 10.1016/j.sbspro.2016.10.221
Badan Pusat Statistik. (2019). Satistik Penduduk Lanjut Usia. Retrieved from https://www.bps.go.id/publication/2019/12/20/ab17e75dbe630e05110ae53b/statistik-penduduk lanjut-usia-2019.html
Chiang, G. S. H., Sim, B. L. H., Lee, J. J. M., & Quah, J. H. M. (2018). Determinants of poor sleep quality in elderly patients with diabetes mellitus, hyperlipidemia and hypertension in Singapore. Primary Health Care Research and Development, 19(6), 610–615. DOI: 10.1017/S146342361800018X
Citra W. M. Sari, Parida, U., Adiningsih, D. (2018). Sleep Quality of Elderly with Diabetes Melitus. Journal of Nursing Care, 1(2). DOI: 10.24198/jnc.v1i2.16212
Daǧlar, G., Pinar, Ş. E., Sabancioǧullari, S., & Kav, S. (2014). Sleep quality in the elderly either living at home or in a nursing home. Australian Journal of Advanced Nursing, 31(4), 6–13.
Deepak L. Bhatt, M.D., M. P. H. (2019). What is labile hypertension? Harvard Health Publishing. Retrieved from https://www.health.harvard.edu/heart-health/what-is-labile-hypertension
Desjardins, S., Lapierre, S., Hudon, C., & Desgagné, A. (2019). Factors involved in sleep efficiency: A population-based study of community-dwelling elderly persons. Sleep, 42(5), 1–10. DOI: 10.1093/sleep/zsz038
Dinkes Jawa Barat. (2017). Laporan Kinerja Instansi Pemerintah 2016. Retrieved from fromhttp://www.diskes.jabarprov.go.id/index.php/pages/detailparent/2017/281/LKIP-Laporan-Kinerja-Instansi-Pemerintah
Djamaludin, D. (2019). Pengaruh Senam Lansia Terhadap Kualitas Tidur Penderita Hipertensi Pada Lansia. Manuju: Malahayati Nursing Journal, 1(217–226), 217–226.
Eshkoor, S. A., Hamid, T. A., Nudin, S. S. A. H., & Mun, C. Y. (2014). Importance of hypertension and social isolation in causing sleep disruption in dementia. American Journal of Alzheimer's Disease and Other Dementias, 29(1), 61–66. DOI: 10.1177/1533317513505136
Fitzgerald, T., & Vietri, J. (2015). Residual Effects of Sleep Medications Are Commonly Reported and Associated with Impaired Patient-Reported Outcomes among Insomnia Patients in the United States. Sleep Disorders, 2015, 1–9. DOI: 10.1155/2015/607148
Hanus, J. S., Amboni, G., da Rosa, M. I., Ceretta, L. B., & Tuon, L. (2015). The quality and characteristics of sleep of hypertensive patients. Revista Da Escola de Enfermagem, 49(4), 594–599. DOI: 10.1590/S0080-623420150000400009
Hernández-Aceituno, A., Guallar-Castillón, P., García-Esquinas, E., Rodríguez-Artalejo, F., & Banegas, J. R. (2019). Association between sleep characteristics and antihypertensive treatment in older adults. Geriatrics and Gerontology International, 19(6), 537–540. DOI: 10.1111/ggi.13660
Ji-Rong, Y., Hui, W., Chang-Quan, H., & Bi-Rong, D. (2012). Association between sleep quality and arterial blood pressure among Chinese nonagenarians/centenarians. Medical Science Monitor, 18(3), 36–42. DOI: 10.12659/MSM.882512
Joo Seop Kim, Hye Soo Chung, Jae Myung Yu, Sung Tae Cho, Shinje Moon, H. J. Y. (2018). Analyzing the Factors Associated With Nocturia in Older People in the United States. Ann Geriatr Med Res. DOI: 10.4235/agmr.18.0044
Kara, B., & Tenekeci, E. G. (2017). Sleep Quality and Associated Factors in Older Turkish Adults With Hypertension: A Pilot Study. Journal of Transcultural Nursing, 28(3), 296–305. DOI: 10.1177/1043659615623330
Kemenkes. (2019). Workshop Halun 2019 : Dirjen Kesmas Paparkan Tentang Lansia SMART. Retrieved from https://www.kesmas.kemkes.go.id/portal/konten/~rilis-berita/071210-workshop-halun-2019-:-dirjen-kesmas-paparkan-tentang-lansia-smart
Khasanah, K., Hidayati, W., Kedokteran, F., & Kedokteran, F. (2012). Kualitas Tidur Lansia Balai Perlindungan Sosial Mandiri Semarang. Jurnal Keperawatan Diponegoro,1(1),189-196. Retrieved from https://ejournal3.undip.ac.id/index.php/jnursing/article/view/449.
Laili, F. N., & Hatmanti, N. M. (2018). AKTIVITAS FISIK DENGAN KUALITAS TIDUR LANSIA DI POSYANDU LANSIA WULAN ERMA MENANGGAL SURABAYA: Physical Activity With Sleep Quality In Elderly Posyandu Wulan Erma Menanggal Surabaya. Jurnal Ilmiah Keperawatan (Scientific Journal of Nursing), 4(1), 7–14. DOI: 10.33023/jikep.v4i1.129
Lazarus, M., Oishi, Y., Bjorness, T. E., & Greene, R. W. (2019). Gating and the need for sleep: Dissociable effects of adenosine a1and a2areceptors. Frontiers in Neuroscience, 13(1), 1–12. DOI: 10.3389/fnins.2019.00740
Li, J., Vitiello, M. V., & Gooneratne, N. S. (2018). Sleep in Normal Aging. Sleep Medicine Clinics, 13(1), 1–11. DOI: 10.1016/j.jsmc.2017.09.001
Madrid-Valero, J. J., Martínez-Selva, J. M., Ribeiro do Couto, B., Sánchez-Romera, J. F., & Ordoñana, J. R. (2017). Age and gender effects on the prevalence of poor sleep quality in the adult population. Gaceta Sanitaria, 31(1), 18–22. hDOI: 10.1016/j.gaceta.2016.05.013
Mander, B. A., Winer, J. R., & Walker, M. P. (2017). Sleep and Human Aging. HHS Public Access Neuron, 94(1), 19–36. DOI: 10.1016/j.neuron.2017.02.004
Marlina. (2010). Faktor – Faktor Yang Mempengaruhi Tidur Pada Lanjut Usia Di Desa Meunasah Balek Kecamatan Kota Meureudu Kabupaten Pidie Jaya. Jurnal Ilmu Keperawatan Dan Kebidanan, 1(4), 1–21.
Nakazaki, C., Noda, A., Koike, Y., Yamada, S., Murohara, T., & Ozaki, N. (2012). Association of insomnia and short sleep duration with atherosclerosis risk in the elderly. American Journal of Hypertension, 25(11), 1149–1155. DOI: 10.1038/ajh.2012.107
Nanfang Li. (2020). Secondary Hypertension: Screening, Diagnosis and Treatment. Springer Nature Singapore Pte Ltd. DOI: 10.1007/978-981-15-0591-1
Nurdianningrum, B., & Purwoko, Y. (2016). Pengaruh Senam Lansia Terhadap Kualitas Tidur Pada Lansia. Jurnal Kedokteran Diponegoro, 5(4), 587–598.
Obayashi, K., Saeki, K., Iwamoto, J., Okamoto, N., Tomioka, K., Nezu, S., Ikada, Y., & Kurumatani, N. (2014). Effect of exposure to evening light on sleep initiation in the elderly: A longitudinal analysis for repeated measurements in home settings. Chronobiology International, 31(4), 461–467. DOI: 10.3109/07420528.2013.840647
Ohayon, M., Wickwire, E. M., Hirshkowitz, M., Albert, S. M., Avidan, A., Daly, F. J., Dauvilliers, Y., Ferri, R., Fung, C., Gozal, D., Hazen, N., Krystal, A., Lichstein, K., Mallampalli, M., Plazzi, G., Rawding, R., Scheer, F. A., Somers, V., & Vitiello, M. V. (2017). National Sleep Foundation's sleep quality recommendations: first report. Sleep Health, 3(1), 6–19. DOI: 10.1016/j.sleh.2016.11.006
Park, M. J., & Kim, K. H. (2017). What affects the subjective sleep quality of hospitalized elderly patients? Geriatrics and Gerontology International, 17(3), 471–479. DOI: 10.1111/ggi.12743
Permady, G. G. (2015). Pengaruh merendam kaki dengan air hangat terhadap kualitas tidur lansia di wilayah kerja puskesmas astanalanggar kecamatan losari cirebon jawa barat. Skripsi. Program Studi Ilmu Keperawatan Fakultas Kedokteran dan Ilmu Kesehatan Universitas Islam Negeri Syarif Hidayatullah Jakarta.
Quan, S. A., Li, Y. C., Li, W. J., Li, Y., Jeong, J. Y., & Kim, D. H. (2016). Gender differences in sleep disturbance among elderly koreans: Hallym aging study. Journal of Korean Medical Science, 31(11), 1689–1695. DOI: 10.3346/jkms.2016.31.11.1689
Razali, R., Ariffin, J., Firzah, A., Aziz, A., Wan, S. E., Wahab, S., Iryani, T., & Daud, M. (2016). Sleep quality and psychosocial correlates among elderly attendees of an urban primary care centre in. Neurology Asia, 21(3), 265–273.
Riskesdas. (2018). Hasil Utama Riskesdas 2018. Retrieved from http://kesmas.kemkes.go.id/assets/upload/dir_519d41d8cd98f00/files/Hasil-riskesdas-2018_1274.pdf
Ristania, S. R., Supriyanto, S., & Irawan, R. (2017). The Effect of Consuming Ambon Banana ( Musa paradisiaca Var . Sapientum ) on Sleep Latency of Elderly Hypertension 86 | Publisher : Humanistic Network for Science and Technology Health N. 1(2), 86–89.|
Sagala, V. P. (2013). Kualitas Tidur Dan Faktor-Faktor Gangguan Tidur Pada Penderita Hipertensi Di Wilayah Kerja Puskesmas Medan Johor. University of Sumatera Utara Institutional Repository. Retrieved from http://repository.usu.ac.id/handle/123456789/38841
Sakinah, Sakinah, P. R., Kosasih, C. E., Sari, E. A. (2018). Gambaran kualitas Tidur Pada
Penderita Hipertensi. Media Kesehatan Politeknik Kesehatan Makassar.13(2), 46.52. DOI: 10.32382/medkes.v13i2.663
Shim, J., & Kang, S. W. (2017). Behavioral Factors Related to Sleep Quality and Duration in Adults. Journal of Lifestyle Medicine, 7(1), 18–26. DOI: 10.15280/jlm.2017.7.1.18
Sudirman, S. (2011). Psikologi Lanjut Usia. In Universitas Gajah Mada Press.
Sukmawati, N. M. H., & Putra, I. G. S. W. (2019). Reliabilitas Kusioner Pittsburgh Sleep Quality Index ( Psqi ) Versi Bahasa Indonesia Dalam Mengukur. Jurnal Lngkungan Dan Pembangunan, 3(2), 30–38.
Syarif M. (2016). Pengaruh Terapi Air Hangat Terhadap Kualitas Tidur Lansia Di Dusun Cambahan Gamping Kabupaten Sleman Yogyakarta. Naskah Publikasi FAKULTAS ILMU KESEHATAN UNIVERSITAS 'AISYIYAH YOGYAKARTA.
Uchmanowicz, I., Markiewicz, K., Uchmanowicz, B., Kołtuniuk, A., & Rosińczuk, J. (2019). The relationship between sleep disturbances and quality of life in elderly patients with hypertension. Clinical Interventions in Aging, 14, 155–165. DOI: 10.2147/CIA.S188499
Victor, R. G., Li, N., Blyler, C. A., Mason, O. R., Chang, L. C., Moy, N. P. B., Rashid, M. A., Weiss, J. P., Handler, J., Brettler, J. W., Sagisi, M. B., Rader, F., & Elashoff, R. M. (2019). Nocturia as an Unrecognized Symptom of Uncontrolled Hypertension in Black Men Aged 35 to 49 Years. Journal of the American Heart Association, 8(5). DOI: 10.1161/JAHA.118.010794
Wartonah, T. (2010). Kebutuhan Dasar Manusia dan Proses Keperawatan. Jakarta. Salemba Medika.
Whelton, P. K., Carey, R. M., Aronow, W. S., Casey, D. E., Collins, K. J., Himmelfarb, C. D., DePalma, S. M., Gidding, S., Jamerson, K. A., Jones, D. W., MacLaughlin, E. J., Muntner, P., Ovbiagele, B., Smith, S. C., Spencer, C. C., Stafford, R. S., Taler, S. J., Thomas, R. J., Williams, K. A., … Hundley, J. (2018). ACC/AHA/AAPA/ABC/ACPM/AGS/APhA/ ASH/ASPC/NMA/PCNA guideline for the prevention, detection, evaluation, and management of high blood pressure in adults a report of the American College of Cardiology/American Heart Association Task Force on Clinical pr. In Hypertension (Vol. 71, Issue 6). DOI: 10.1161/HYP.0000000000000065
Williams, N., Abo Al Haija, O., Workneh, A., Sarpong, D., Keku, E., Ogedegbe, G., McFarlane, S. I., & Jean-Louis, G. (2013). Excessive daytime sleepiness among hypertensive US-born blacks and foreign-born blacks: Analysis of the CAATCH data. International Journal of Hypertension, 2013. DOI: 10.1155/2013/852389
Yu, C., Chen, R., Li, J. J., Li, J. J., Drahansky, M., Paridah, M. ., Moradbak, A., Mohamed, A. (2012). We are IntechOpen , the world ' s leading publisher of Open Access books Built by scientists. Intech, (13). DOI: 10.1016/j.colsurfa.2011.12.014
Zhang, Y., & Tan, X. (2019). Compliance with care and poor sleep quality among hypertensive adults in a mountainous area of Hubei Province, People's Republic of China. Patient Preference and Adherence, 13, 1221—1227. DOI: 10.2147/ppa.s212241.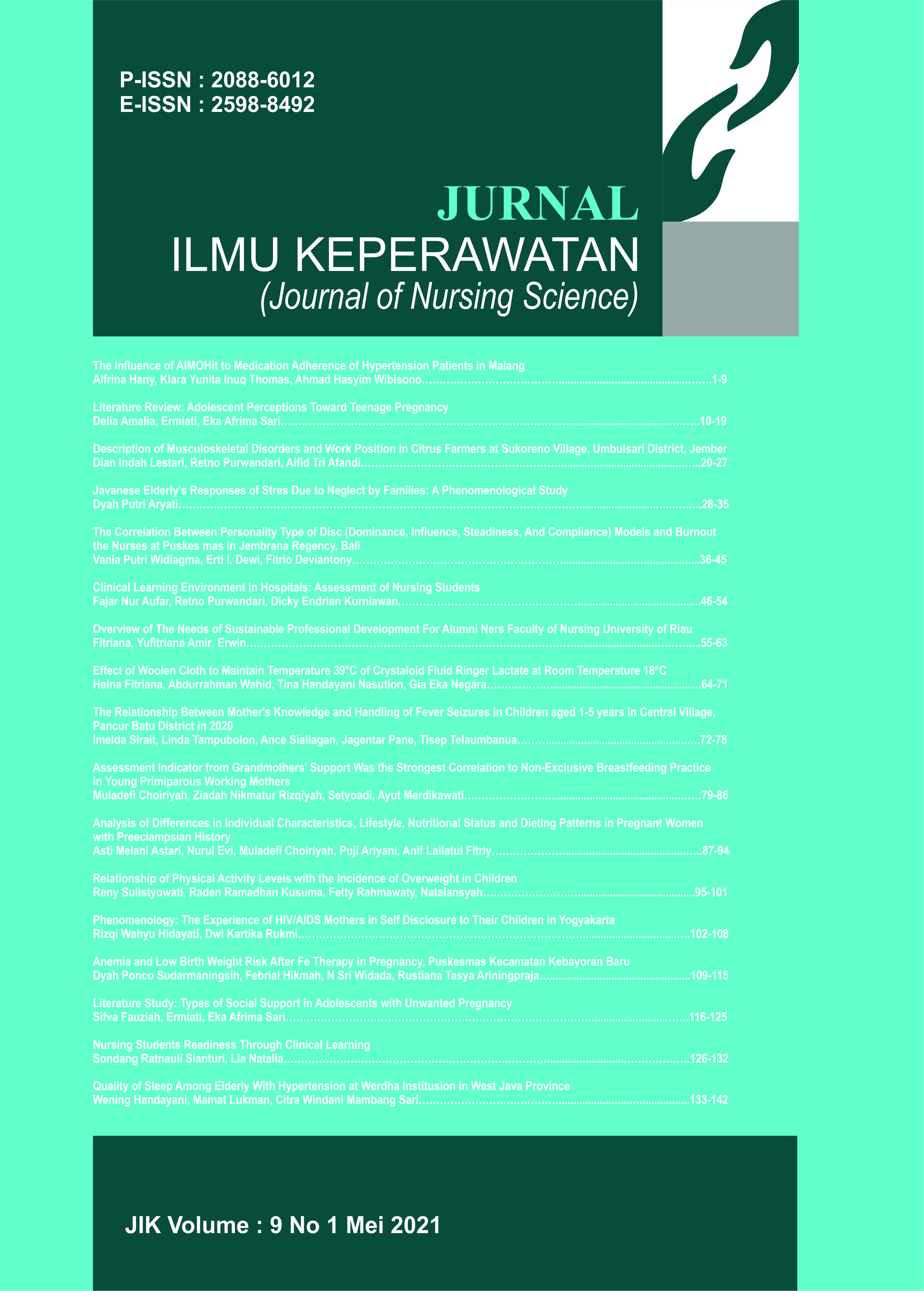 Downloads
License
Authors published in this journal agree to the following terms:
The copyright of each article is held by its author.
Author grants the journal first publication rights with the work simultaneously licensed under the Creative Commons Attribution-NonCommercial 4.0 International License or CC BY-NC 4.0 license, allowing others to share the work with acknowledgment of authorship and initial publication in this journal.
Authors may enter into separate additional contractual agreements for the non-exclusive distribution of the published journal version of the work (for example, posting it to an institutional repository or publishing it in a book), with acknowledgment of their initial publication in this journal.
Authors are permitted and encouraged to post their work online (e.g. in an Institutional Repository or on their website) before and during the submission process, as this can result in a productive exchange, as well as earlier and larger citations of the published work.
Articles and all related material published are distributed under Creative Commons Attribution-NonCommercial 4.0 International License or CC BY-NC 4.0 license.
All articles in this journal are the sole responsibility of the author. Journal of Nursing Science Update (JNSU) provides open access to anyone so that the information and findings in this article are useful for everyone. JNSU can be accessed and downloaded free of charge, free of charge, subject to Creative Commons Attribution-NonCommercial 4.0 International License or CC BY-NC 4.0 license .

JNSU  is licensed under a  Creative Commons Attribution-NonCommercial 4.0 International License or CC BY-NC 4.0 license.