Literature Review : Hydrotherapy Reduce Blood Pressure among Hipertensive Clients
Keywords:
Blood pressure, Hydrotherapy, Hypertension, Nursing, Warm water feet soak
Abstract
Hypertension is a cardiovascular disease that has been linked to a number of public health issues. This is due to unhealthy lifestyles and cellular and tissue physiological function impairment. Hydrotherapy is a non-pharmacological intervention that can lower blood pressure. As long as the patient is taking antihypertensive medications, this therapy becomes complementary. This study aims to describe the use of hydrotherapy that lowers blood pressure in hypertensive patients. The research design used is a literature review of national and international indexed journals. The databases used include ProQuest, GALE, OneSearch, RAMA, SINTA, and Google Scholar by using keywords hydrotherapy, blood pressure, and hypertension. Inclusion criteria are the range of publication years is in 2016-2020. While the exclusion criteria is when the independent variable used is a combination therapy. Based on a review of ten articles, hydrotherapy affects lowering blood pressure, therefore this therapy can be used as an adjunct therapy to lower blood pressure. This occurs because warm water dilates blood vessels, lowering blood pressure.
References
Daulay, N. M., & Simamora, F. A. (2017). Pengaruh Rendam Kaki Dengan Air Hangat Terhadap Penurunan Tekanan Darah Pada Penderita Hipertensi di Kelurahan Timbangan Tahun 2017. Jurnal Kesehatan Ilmiah Indonesia, 2, 229–235. https://doi.org/10.3975/cagsb.2017.02.15
Dilianti, I. E., Candrawati, E., & Adi, R. C. (2017). Efektivitas Hidroterapi Terhadap Penurunan Tekanan Darah Lansia Penderita Hipertensi. Nursing News, 2(3), 193–206.
Dinkes Kota Semarang. (2018). Profil kesehatan kota semarang tahun 2018. Semarang: Dinas Kesehatan Kota Semarang.
Dinkes Provinsi Jawa Tengah. (2018). Profil kesehatan provinsi jawa tengah tahun 2018.
Harnani, Y., & Axmalia, A. (2017). Terapi Rendam Kaki Menggunakan Air Hangat Efektif Menurunkan Tekanan Darah Pada Lanjut. Journal of Community Health, 3(5), 129–132.
Hartinah, D., Sofyan, A., Siswanto, & Syafiq, A. (2019). The Effect of Hydrotherapy on Blood Pressure of The Hypertensive Patients in Public Hospitals of RA. Kartini Jepara. Atlantis Press, 15 (IcoSIHSN), 96–99. https://doi.org/10.2991/icosihsn-19.2019.22.
Hutajulu, H. E., & Malianti, E. (2017). Perubahan Tekanan Darah Sebagai Respon Terhadap Hirdroterapi Rendam Kaki Dengan Air Hangat Pada Wanita Dewasa Hipertensi Tahap I. Jurnal Skolastik Keperawatan, 3(1), 45–52.
Ilkafah. (2016). Obat Anti Hipertensi Dan Terapi Rendam Air Hangat Di Wilayah Kerja Puskesmas Antara Tamalanrea Makassar. Pharmacon, 5(2), 228–235.
Karo, S. K. (2016). Cegah & Atasi Penyakit Jantung & Pembuluh Darah. Praninta Aksara.
Kasper, Fauci, Hauser, Longo, Jameson, & Loscalzo. (2015). Harrison's Principles of Internal Medicine (19th ed.). Mc.Graw Hill Education.
Kusumawati, Meilirianta, & Rustandi. (2018). Hidroterapi Air Hangat Terhadap Penurunan Tekanan Darah Pada Lansia Penderita Hipertensi di Panti Sosial Tresna Werdha Senjarawi Bandung. Jurnal Keperawatan Aisyiyah, 5(1), 17–24.
Lalage, Z. (2015). Hidup Sehat Dengan Terapi Air. Abata Press.
Malibel, Y. A. A., Herwani, E., & Djogo, H. M. A. (2020). Pengaruh Pemberian Hidroterapi (Rendam Kaki Air Hangat) Terhadap Penurunan Tekanan Darah Pada Pasien Hipertensi Di Wilayah Kerja Puskesmas Sikumana Kota Kupang. CMHK Health Journal, 4, 0–7.
Omeoo. (2017). Hipertensi dan Penanganannya. P2ptm.Kemkes.Go.Id.
Potter, P. A., & Perry, A. G. (2016). Fundamental of Nursing: Concept, Process,and Practice (4th ed.). Jakarta: EGC.
Rahim, R., Mardiah, S. S., & Rismawati, S. (2017). Pengaruh Rendam Kaki Air Hangat Terhadap Perubahan Tekanan Darah Ibu Hamil Hipertensi. Media Informasi, 13(2), 64–69. https://doi.org/10.37160/bmi.v13i2.107.
Riskesdas. (2018). Hasil Utama Riskesdas 2018.
Sabattani, C. F., Machmudah, & Supriyono, M. (2016). Efektivitas Rendam Kaki Dengan Air Hangat Terhadap Penurunan Tekanan Darah Pada Ibu Hamil Penderita Preeklamsia di Puskesmas Ngaliyan Semarang. Jurnal Ilmu Keperawatan Dan Kebidanan (JIKK).
Situmorang, P. R. (2015). Faktor-Faktor yang Berhubungan dengan Kejadian Hipertensi pada Penderita Rawat Inap Di Rumah Sakit Umum Sari Mutiara Medan Tahun 2014. Jurnal Ilmiah Keperawatan, 1(1), 67–72.
Sudaryati, N. L. G., Sudiartawan, I. P., & Adnyana, D. M. (2019). Efektivitas Pemberian Hidroterapi Rendam Kaki Pada Penderita Hipertensi Di Banjar Sri Mandala, Kelurahan Dauhwaru Kabupaten Jembrana. Jurnal Widya Biologi, 10(01), 33–44. https://doi.org/10.32795/widyabiologi.v10i01.235.
Susanto, T. (2015). Terapi Air Putih Mengobati Berbagai Macam Penyakit. Cahaya Atma.
Triyanto, E. (2014). Pelayanan Keperawatan Bagi Penderita Hipertensi Secara Terpadu (1st ed.).
World Health Organization. (2015). A global brief on hypertension: silent killer, global public health crisis.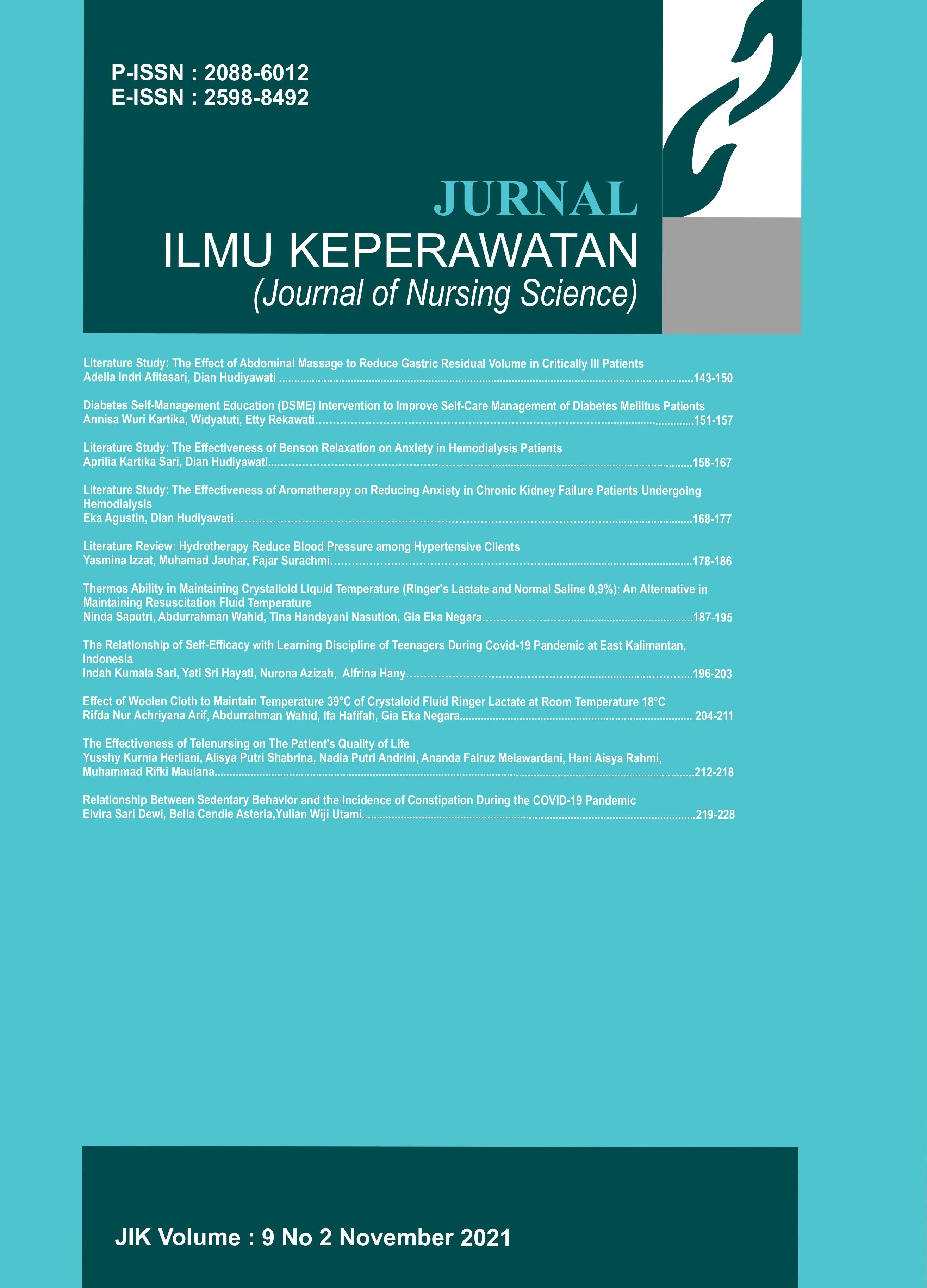 Downloads
License
The authors who publish their articles in Jurnal Ilmu Keperawatan (Journal of Nursing Science) must approve the copyright statement as follows :
 
1. The authors agree to automatic transfer of the copyright to the publisher
2. All material contained in this site is protected by law.
3. If you find one or more articles contained in the journal that violate or potentially infringe your copyright, please contact us via email jkn@ub.ac.id
4. The formal legal aspect of access to any information and articles contained in this journal site refers to the terms of the Creative Commons Attribution-nonCommercial 4.0 International (CC BY NC) license. This allows authors and others to share (copy and redistribute the material in any medium or fomat) and adapt (remix, transform, and build upon the material) for non-commercial purposes.
4. All Information contained in the journal is academic. The journal is not liable for any losses incurred by misuse of information from this site.
Para punulis yang mempublikasin artikel nya di jurnal ilmu keperawatan (Journal of Nursing Science) ini harus menyetujui pernyataan hak cipta seperti dibawah ini:
Penulis secara otomatis setuju bahwa hak cipta artikel berada pada penerbit. Seluruh materi yang terdapat dalam situs ini dilindungi oleh undang-undang. .
Apabila anda menemukan satu atau beberapa artikel yang terdapat dalam jurnal ini yang melanggar atau berpotensi melanggar hak cipta yang anda miliki, silahkan menghubungi kami melalui email jkn@ub.ac.id
Aspek legal formal terhadap akses setiap informasi dan artikel yang tercantum dalam situs jurnal ini mengacu pada ketentuan lisensi Creative Commons Attribution (CC BY NC). Penulis dapat menggunakan artikel dalam jurnal ini untuk disebarluaskan untuk kepentingan non-commercial.
Semua Informasi yang terdapat di jurnal ini bersifat akademik. Jurnal ini tidak bertanggung jawab terhadap kerugian yang terjadi karana penyalah gunaan informasi dari situs ini.
 
Jurnal Ilmu Keperawatan is licensed under https://creativecommons.org/licenses/by-nc/4.0/