Diabetes Self-Management Education (DSME) Intervention to Improve Self-Care Management of Diabetes Mellitus Patients
Keywords:
DSME, Self-care management, Type 2 Diabetes Mellitus, Support Group
Abstract
Self-care management is an important component in the management of Diabetes Mellitus Type 2 (DMT2). Knowledge, self-efficacy, and compliance in self-care are the main factors to improving quality of life and preventing complications. Diabetes Self-Management Education (DSME) in support groups was used in community nursing interventions to improve diabetes self-care management. This study used a one-group pre-post design with t-test analysis to determine the ability of self-management levels and blood sugar values of the group with diabetes before and after the intervention. The instrument used was the Diabetes Self Care Management Questionnaire (DSMQ). Diabetes Mellitus patients received DSME intervention for two months. The number of samplings in this study was 49 people with diabetes. The findings show that in intervention groups, self-care improves, and blood sugar levels fall. There were significant changes in the diabetics' group (n = 48) before and after the intervention on self-care and blood glucose levels (p = 0.000 and p = 0.011). We suggest that the DSME might be given to the diabetes group by nurses as one of the strategies for implementing health education in the public health care program (PERKESMAS). 
References
Abdulrahman, M., Husain, Z. S. M., Abdouli, K. A., Kazim, M. N., Sayed Mahdi Ahmad, F., & Carrick, F. R. (2020). Association between knowledge, awareness, and practice of patients with type 2 diabetes with socio-economic status, adherence to medication and disease complications. Diabetes Research and Clinical Practice, 163, 108124.
Aghdam, S. Y., Gurel, Z., Ghaffarieh, A., Sorenson, C. M., & Sheibani, N. (2013). High glucose and diabetes modulate cellular proteasome function: Implications in the pathogenesis of diabetes complications. Biochemical and Biophysical Research Communications, 432(2), 339–344.
Al-Goblan, A. S., Al-Alfi, M. A., & Khan, M. Z. (2014). Mechanism Linking Diabetes Mellitus and Obesity. Diabetes, metabolic syndrome and obesity: targets and therapy, 7, 587–591.
Anglada-Martínez, H., Martin-Conde, M., Rovira-Illamola, M., Sotoca-Momblona, J. M., Sequeira, E., Aragunde, V., & Codina-Jané, C. (2017). An Interactive Mobile Phone–Website Platform to Facilitate Real-Time Management of Medication in Chronically ill Patients. Journal of Medical Systems, 41(8), 122.
Carpenter, R., DiChiacchio, T., & Barker, K. (2019). Interventions for self-management of type 2 diabetes: An integrative review. International Journal of Nursing Sciences, 6(1), 70–91.
Correia, M. A., Silva, G. O., Longano, P., Trombetta, I. C., Consolim-Colombo, F., Puech-Leão, P., Wolosker, N., Cucato, G. G., & Ritti-Dias, R. M. (2021). In peripheral artery disease, diabetes is associated with reduced physical activity level and physical function and impaired cardiac autonomic control: A cross-sectional study. Annals of Physical and Rehabilitation Medicine, 64(2), 101365.
Dinas Kesehatan Kota Depok. (2017). SPM Dinas Kesehatan Kota Depok. Diakses pada 4 Maret 2021, dari https://dinkes.depok.go.id/User/dokumen.
Felix, H. C., Narcisse, M.-R., Long, C. R., English, E., Haggard-Duff, L., Purvis, R. S., & McElfish, P. A. (2019). The Effect of Family Diabetes Self-management Education on Self-care Behaviors of Marshallese Adults with Type 2 Diabetes. American Journal of Health Behavior, 43(3), 490–497.
Fitri, D. E., Sari, S. M., & Krianto, T. (2019). The Comparison of Diabetes Self-Management Education Using Lecturing Method with Booklet and Whatsapp Group Method Against Self Care Behavior of Diabetes Mellitus Patients. Jurnal Kesehatan Komunitas, 4(3), 126–131.
Haas, L., Maryniuk, M., Beck, J., Cox, C. E., Duker, P., Edwards, L., Fisher, E. B., Hanson, L., Kent, D., Kolb, L., McLaughlin, S., Orzeck, E., Piette, J. D., Rhinehart, A. S., Rothman, R., Sklaroff, S., Tomky, D., Youssef, G., & on behalf of the 2012 Standards Revision Task Force. (2014). National Standards for Diabetes Self-Management Education and Support. Diabetes Care, 37(Supplement_1), S144–S153.
Gnanasundaram, S., Ramalingam, P., Das, B. N., & Viswanathan, V. (2020). Gait changes in persons with diabetes: Early risk marker for diabetic foot ulcer. Foot and Ankle Surgery, 26(2), 163–168.
Heriansyah. (2014). Pengaruh Edukasi dengan Pendekatan Prinsip Diabetes Self-Management Education (DSME) dalam Meningkatkan Pengetahuan Diet Terhadap Kepatuhan Diet pada Penderita Diabetes Mellitus Tipe 2. Jurnal Ilmiah Kesehatan Diagnosis, 4(4).
Jaam, M., Mohamed Ibrahim, M. I., Kheir, N., Hadi, M. A., Diab, M. I., & Awaisu, A. (2018). Assessing prevalence of and barriers to medication adherence in patients with uncontrolled diabetes attending primary healthcare clinics in Qatar. Primary Care Diabetes, 12(2), 116–125.
Jaam, M., Awaisu, A., Mohamed Ibrahim, M. I., & Kheir, N. (2018). A holistic conceptual framework model to describe medication adherence in and guide interventions in diabetes mellitus. Research in Social and Administrative Pharmacy, 14(4), 391–397.
Johnson, N. A., Barwick, A. L., Searle, A., Spink, M. J., Twigg, S. M., & Chuter, V. H. (2019). Self-reported physical activity in community-dwelling adults with diabetes and its association with diabetes complications. Journal of Diabetes and Its Complications, 33(1), 33–38.
Kementerian Kesehatan RI. (2018). Laporan Nasional Riskesdas 2018. Jakarta: Kementerian Kesehatan RI.
Lavelle, D., Zeitoun, J., Stern, M., Butkiewicz, E., Wegner, E., & Reinisch, C. (2016). Diabetes Self-Management Education in the Home. Cureus, 8(7), e710.
Mertha, I.M., Ribek, I.N., Widastra, I.M. (2016). Kelompok Swabantu Diabetes Terhadap Pengetahuan dan Kepatuhan Kontrol Pasien Diabetes Mellitus di Puskesmas IV Denpasar Selatan Tahun 2015. Jurnal Skala Husada, 13 (2), 165 - 176.
van Olmen, J., Ku, G. M., van Pelt, M., Kalobu, J. C., Hen, H., Darras, C., Van Acker, K., Villaraza, B., Schellevis, F., & Kegels, G. (2013). The effectiveness of text messages support for diabetes self-management: Protocol of the TEXT4DSM study in the democratic Republic of Congo, Cambodia and the Philippines. BMC Public Health, 13(1), 423.
Stearns, A. E., & Yang, Y. (2021). Women's peer to peer support inside a jail support group. Journal of Social and Personal Relationships, 02654075211030333.
Sibounheuang, P., Olson, P. S., & Kittiboonyakun, P. (2020). Patients' and healthcare providers' perspectives on diabetes management: A systematic review of qualitative studies. Research in Social and Administrative Pharmacy, 16(7), 854–874.
Spencer, M. S., Kieffer, E. C., Sinco, B., Piatt, G., Palmisano, G., Hawkins, J., Lebron, A., Espitia, N., Tang, T., Funnell, M., & Heisler, M. (2018). Outcomes at 18 Months from a Community Health Worker and Peer Leader Diabetes Self-Management Program for Latino Adults. Diabetes care, 41(7), 1414–1422.
Tang, T. S., Funnell, M., Sinco, B., Piatt, G., Palmisano, G., Spencer, M. S., Kieffer, E. C., & Heisler, M. (2014). Comparative effectiveness of peer leaders and community health workers in diabetes self-management support: results of a randomized controlled trial. Diabetes care, 37(6), 1525–1534.
Trevisan, D. D., São-João, T., Cornélio, M., Jannuzzi, F., de Sousa, M. R., Rodrigues, R., & Lima, M. H. (2020). Effect of an 'implementation intention' intervention on adherence to oral anti-diabetic medication in Brazilians with type 2 diabetes. Patient Education and Counseling, 103(3), 582–588.
Wildenbos, G. A., Jaspers, M. W. M., Schijven, M. P., & Dusseljee- Peute, L. W. (2019). Mobile health for older adult patients: Using an aging barriers framework to classify usability problems. International Journal of Medical Informatics, 124, 68–77.
Yaghoubi, M., Mansell, K., Vatanparast, H., Steeves, M., Zeng, W., & Farag, M. (2020). Prevalence of Type 1 and Type 2 Diabetes-Related Complications and Their Association With Determinants Identified in Canada's Survey on Living With Chronic Diseases—Diabetes Component. Canadian Journal of Diabetes, 44(4), 304-311.e3.
Yeoh, E. K., Wong, M. C. S., Wong, E. L. Y., Yam, C., Poon, C. M., Chung, R. Y., Chong, M., Fang, Y., Wang, H. H. X., Liang, M., Cheung, W. W. L., Chan, C. H., Zee, B., & Coats, A. J. S. (2018). Benefits and limitations of implementing Chronic Care Model (CCM) in primary care programs: A systematic review. International Journal of Cardiology, 258, 279–288.
Yu, C. H., Parsons, J., Mamdani, M., Lebovic, G., Shah, B. R., Bhattacharyya, O., Laupacis, A., & Straus, S. E. (2012). Designing and evaluating a web-based self-management site for patients with type 2 diabetes--systematic website development and study protocol. BMC medical informatics and decision making, 12, 57.
Zhuang, Q., Chen, F., & Wang, T. (2020). Effectiveness of short message service intervention to improve glycated hemoglobin control and medication adherence in type-2 diabetes: A meta-analysis of prospective studies. Primary Care Diabetes, 14(4), 356–363.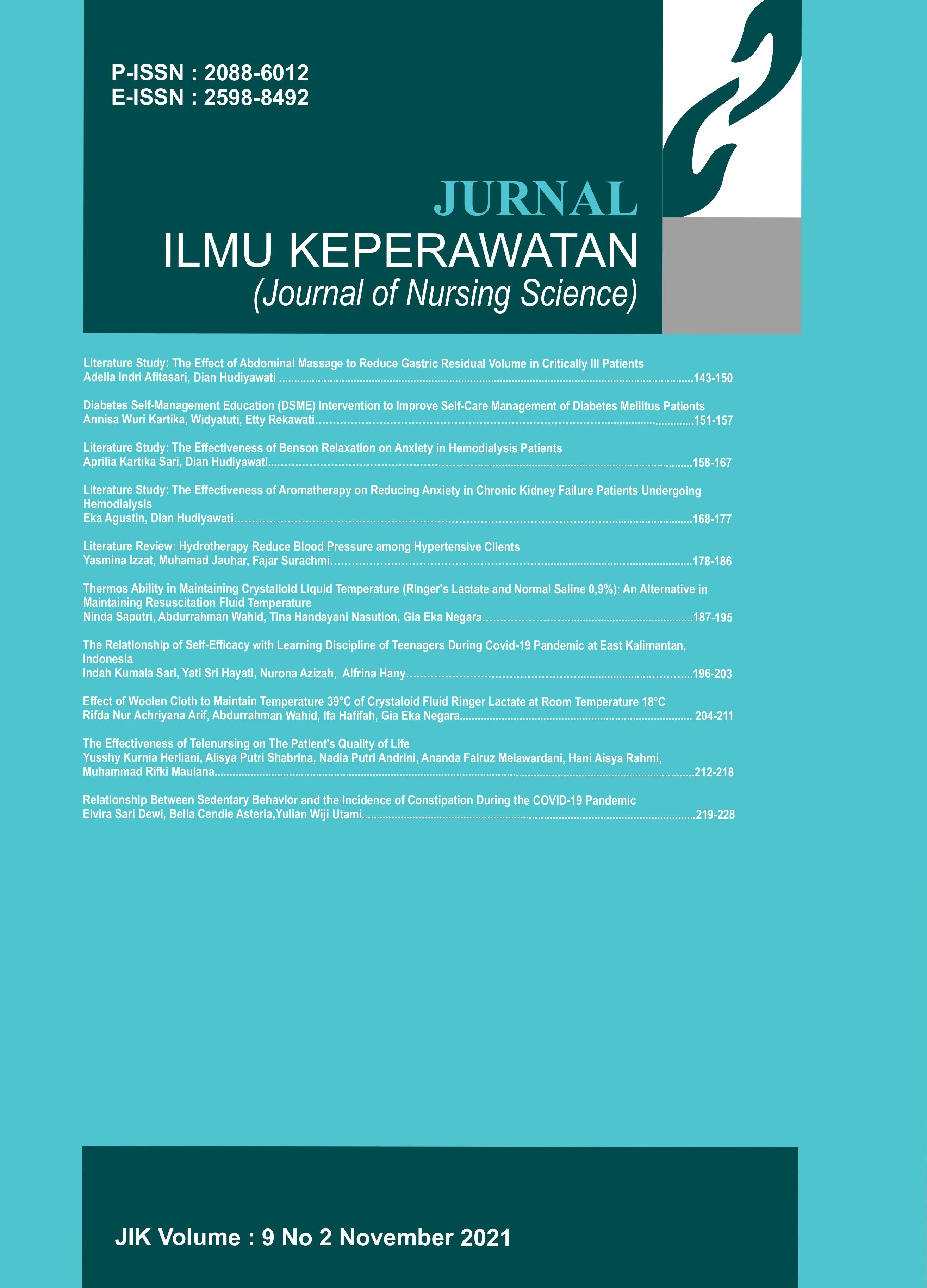 Downloads
License
The authors who publish their articles in Jurnal Ilmu Keperawatan (Journal of Nursing Science) must approve the copyright statement as follows :
 
1. The authors agree to automatic transfer of the copyright to the publisher
2. All material contained in this site is protected by law.
3. If you find one or more articles contained in the journal that violate or potentially infringe your copyright, please contact us via email jkn@ub.ac.id
4. The formal legal aspect of access to any information and articles contained in this journal site refers to the terms of the Creative Commons Attribution-nonCommercial 4.0 International (CC BY NC) license. This allows authors and others to share (copy and redistribute the material in any medium or fomat) and adapt (remix, transform, and build upon the material) for non-commercial purposes.
4. All Information contained in the journal is academic. The journal is not liable for any losses incurred by misuse of information from this site.
Para punulis yang mempublikasin artikel nya di jurnal ilmu keperawatan (Journal of Nursing Science) ini harus menyetujui pernyataan hak cipta seperti dibawah ini:
Penulis secara otomatis setuju bahwa hak cipta artikel berada pada penerbit. Seluruh materi yang terdapat dalam situs ini dilindungi oleh undang-undang. .
Apabila anda menemukan satu atau beberapa artikel yang terdapat dalam jurnal ini yang melanggar atau berpotensi melanggar hak cipta yang anda miliki, silahkan menghubungi kami melalui email jkn@ub.ac.id
Aspek legal formal terhadap akses setiap informasi dan artikel yang tercantum dalam situs jurnal ini mengacu pada ketentuan lisensi Creative Commons Attribution (CC BY NC). Penulis dapat menggunakan artikel dalam jurnal ini untuk disebarluaskan untuk kepentingan non-commercial.
Semua Informasi yang terdapat di jurnal ini bersifat akademik. Jurnal ini tidak bertanggung jawab terhadap kerugian yang terjadi karana penyalah gunaan informasi dari situs ini.
 
Jurnal Ilmu Keperawatan is licensed under https://creativecommons.org/licenses/by-nc/4.0/