The Relationship of Self-Efficacy with Diet Compliance in Type 2 Diabetes Mellitus Patients in Puskesmas Gumawang, OKU Timur Regency
Keywords:
Self-Efficacy, Diet compliance, Diabetes mellitus
Abstract
Dietary compliance in diabetes patients is vital to developing good outcomes for better health. One of the biggest problems in managing diet for patients is feeling bored and pressured with the menu that has been provided. The impact is that they show unwillingness and inability to follow a diet program. Adherence to this diet emphasizes the role and self-efficacy that requires awareness and intention from people who manage diabetes mellitus. This study aimed to determine the relationship between self-efficacy and dietary compliance in patients with Diabetes Mellitus type 2 at the Gumawang Primary Health Center, East OKU district. This study used a cross-sectional approach with 53 respondents. The sampling technique used is purposive sampling. Data collection using research instruments in two questionnaires, namely the Diabetes Management Self Efficacy Scale (DMSES) and Dietary Compliance by Haryono modified by Permatasari (2014). The results of the univariate analysis showed that self-efficacy was in the reasonably good category and diet compliance was in the good category. Based on bivariate analysis, it is known that the p-value is 0.000 <0.005 with a correlation coefficient of 0.773, which means that there is a solid significant correlation between the self-efficacy variable and dietary compliance. It is recommended to create a program to improve patient self-efficacy, one of which is to create a Self-Help Group program for patients with Diabetes Mellitus.
References
Adaikalakoteswari, A., Rabbani, N., Waspadji, S., Tjokroprawiro, A., Kariadi, S. H. K. S., Adam, J. M. F., & Thornalley, P. J. (2012). Disturbance of B-vitamin status in people with type 2 diabetes in Indonesia-Link to renal status, glycemic control and vascular inflammation. Diabetes Research and Clinical Practice, 95(3), 415–424.
Ariani, Y. (2011). Hubungan Antara Motivasi dengan Efikasi Diri Pasien DM Tipe 2 Dalam Konteks Asuhan Keperawatan di RSUP. H. Adam Malik Medan. Universitas Indonesia, 76–78.
Bangun, A. V., Jatnika, G., & Herlina, H. (2020). Hubungan antara Dukungan Keluarga dengan Kepatuhan Diet pada Penderita Diabetes Mellitus Tipe 2. Jurnal Ilmu Keperawatan Medikal Bedah, 3(1), 66–76.
Diani, N., Waluyo, A., & Sukmarini, L. (2013). Pengetahuan Klien Tentang Diabetes Melitus Tipe 2 Berpengaruh Terhadap Kemampuan Klien Merawat Kaki. Jurnal Keperawatan Indonesia, 16(2), 120–127.
Gustina, Suratun, & Heryati. (2014). Faktor-Faktor Yang Berhubungan Dengan Kepatuhan Diet Diabetes Mellitus Pada Pasien DM. Jurusan Keperawatan Poltekkes Kemenkes Jakarta III, 2(3), 97–107.
Haskas, Y. (2017). Determinan Perilaku Pengendalian Diabetes Melitus Di Wilayah Kota Makassar. Global Health Science (GHS), 2(2), 138–144.
Ilmah, F., & Rochmah, T. N. (2015). Kepatuhan Pasien Rawat Inap Diet Diabetes Mellitus Berdasarkan Teori Kepatuhan Niven. Jurnal Administrasi Kesehatan Indonesia, 3(1), 60.
Junaiddin, J. (2020). Hubungan Self Efficacy Dengan Kepatuhan Terapi Diet Pasien Diabetes Melitus Tipe 2 Di RSUD Kota Makassar. Jurnal Ilmiah Kesehatan Diagnosis, 15, 208–211.
Kartika, A. W., Widyatuti, W., & Rekawati, E. (2021). Diabetes Self-Management Education (DSME) Intervention to Improve Self-Care Management of Diabetes Mellitus Patients. Journal of Nursing Science Update, 9(2), 151–157.
Ngurah, I. G. K. G., & Sukmayanti, M. (2014). Efikasi Diri pada Pasien Diabetes Melitus Tipe 2. Keperawatan Politeknik Kesehatan Denpasar, 21, 6–7.
Ningsih, H. R., Bayhakki, B., & Woferst, R. (2018). Hubungan Self Efficacy Terhadap Kepatuhan Diit Pada Penderita DM. Jurnal Online Mahasiswa (JOM) Bidang Ilmu Keperawatan, 5(0), 212–219.
Nurhaliza, S., Mulfianda, R., & Putra, Y. (2021). The Correlation of Motivation and Family Support Towards Diet Compliance for Diabetes. XII(2).
Pemata, I. D., Andriani, L., & Granita. (2019). Pengaruh Penerapan Model Pembelajaran Student Fasilitator and Explaining (SFaE) terhadap Kemampuan Komunikasi Matematis Berdasarkan Self Efficacy Siswa SMP di Pekanbaru. Juring (Journal for Research in Mathematics Learning), 2(4), 285–296.
Rahman, H. F., Yulia, & Sukarmini, L. (2017). Efikasi Diri, Kepatuhan, dan Kualitas Hidup Pasien Diabetes melitus tipe 2 ( Self efficacy, adherence, and quality of life of patients with type 2 diabetes ). E-Jurnal Pustaka Kesehatan, 5, 108–113.
Ratnawati, N. (2016). Hubungan Efikasi Diri Terhadap Kualitas Hidup Pasien Diabetes Mellitus Tipe 2 di RS PKU MUHAMMADIAH YOGYAKARTA. Ilmu Kedokteran Dan Kesehatan, 1–69.
Kementerian Kesehatan Republik Indonesia. (2018). Hasil Riset Kesehatan Dasar 2018. Kementerian Kesehatan Republik Indonesia.
Rizqah, S. F., & Basri, H. M. (2018). Hubungan Efikasi Diri Dengan Kepatuhan Diet 3J Pada Pasien Diabetes Melitus Di Puskesmas Mandai Kabupaten Maros. Jurnal Ilmiah Kesehatan Diagnosis, 12, 586–591.
Rohani, R., & Ardenny, A. (2019). Analisis Faktor Yang Berhubungan Dengan Kepatuhan Diet Penderita Diabetes Melitus. Jurnal Proteksi Kesehatan, 7(2), 61–67.
Rustika, I. M. (2016). Efikasi Diri: Tinjauan Teori Albert Bandura. Buletin Psikologi, 20(1–2), 18–25.
Yaqin, A., Niken, S., & Dharmana, E. (2017). Efek Self Efficacy Training Terhadap Self Efficacy Dan Kepatuhan Diet Diabetesi. JI-KES (Jurnal Ilmu Kesehatan), 1(1).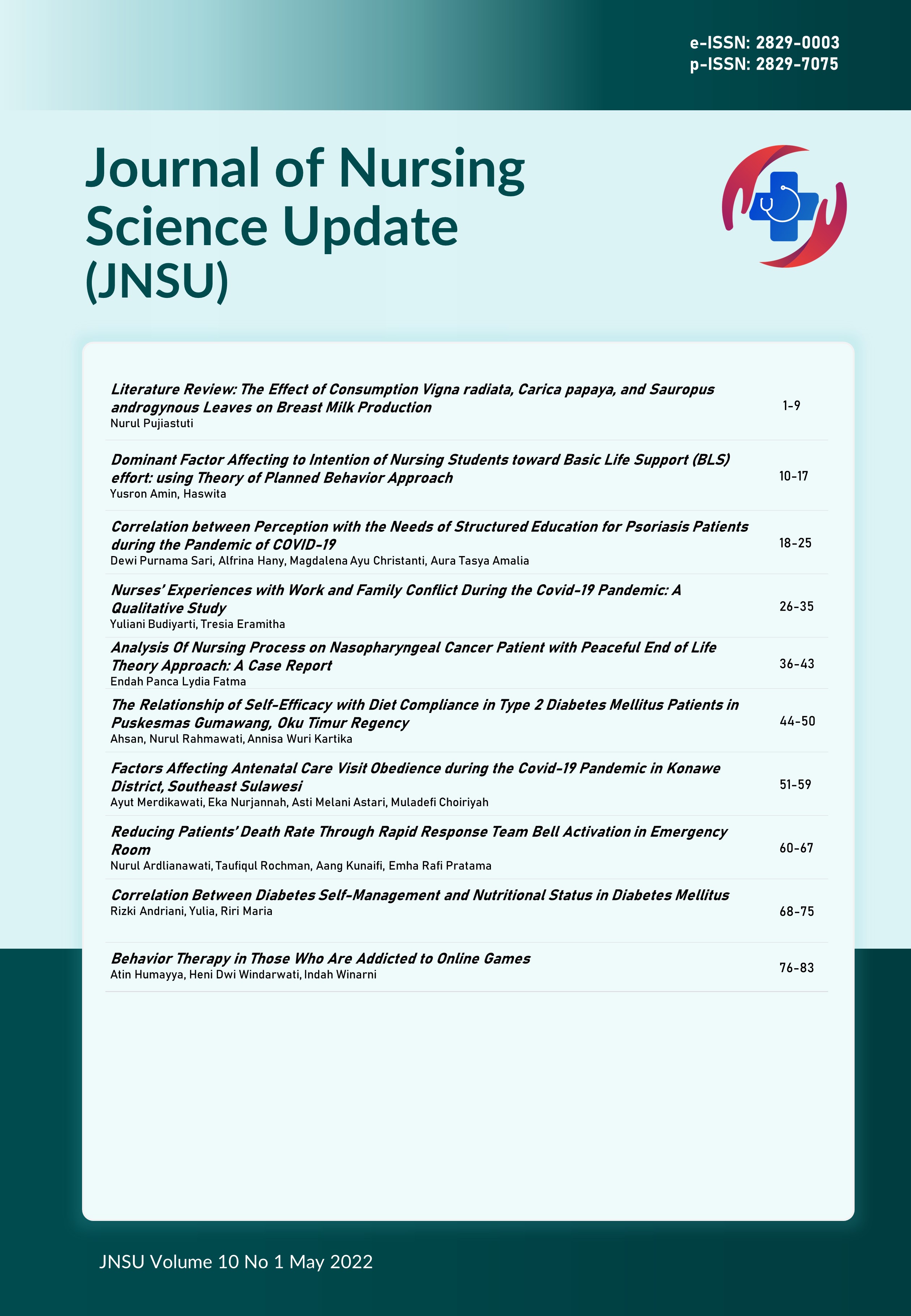 Downloads
License
Copyright (c) 2022 Journal of Nursing Science Update
This work is licensed under a Creative Commons Attribution-NonCommercial 4.0 International License.
The authors who publish their articles in Jurnal Ilmu Keperawatan (Journal of Nursing Science) must approve the copyright statement as follows :
 
1. The authors agree to automatic transfer of the copyright to the publisher
2. All material contained in this site is protected by law.
3. If you find one or more articles contained in the journal that violate or potentially infringe your copyright, please contact us via email jkn@ub.ac.id
4. The formal legal aspect of access to any information and articles contained in this journal site refers to the terms of the Creative Commons Attribution-nonCommercial 4.0 International (CC BY NC) license. This allows authors and others to share (copy and redistribute the material in any medium or fomat) and adapt (remix, transform, and build upon the material) for non-commercial purposes.
4. All Information contained in the journal is academic. The journal is not liable for any losses incurred by misuse of information from this site.
Para punulis yang mempublikasin artikel nya di jurnal ilmu keperawatan (Journal of Nursing Science) ini harus menyetujui pernyataan hak cipta seperti dibawah ini:
Penulis secara otomatis setuju bahwa hak cipta artikel berada pada penerbit. Seluruh materi yang terdapat dalam situs ini dilindungi oleh undang-undang. .
Apabila anda menemukan satu atau beberapa artikel yang terdapat dalam jurnal ini yang melanggar atau berpotensi melanggar hak cipta yang anda miliki, silahkan menghubungi kami melalui email jkn@ub.ac.id
Aspek legal formal terhadap akses setiap informasi dan artikel yang tercantum dalam situs jurnal ini mengacu pada ketentuan lisensi Creative Commons Attribution (CC BY NC). Penulis dapat menggunakan artikel dalam jurnal ini untuk disebarluaskan untuk kepentingan non-commercial.
Semua Informasi yang terdapat di jurnal ini bersifat akademik. Jurnal ini tidak bertanggung jawab terhadap kerugian yang terjadi karana penyalah gunaan informasi dari situs ini.
 
Jurnal Ilmu Keperawatan is licensed under https://creativecommons.org/licenses/by-nc/4.0/