Dominant Factor Affecting to Intention of Nursing Students toward Basic Life Support (BLS) Effort: Using Theory of Planned Behavior Approach
Keywords:
Dominant factor, Intention, Nursing students, Balic Life Support, Theory of Planned Behavior
Abstract
The less intention of nursing students toward Basic Life Support (BLS) effort could affect less quality of basic life support performed by nursing students. The study aimed to analyze the dominant factor affecting the intention of nursing students toward basic life effort using the theory of planned behavior approach. The samples were 100 respondents who met inclusion criteria using the purposive sampling technique. The instrument was a self-administered questionnaire that consisted of the variables from the theory of planned behavior. The data analysis using logistic regression. The result showed that attitude was the dominant factor affecting to intention (p=0.000; OR=47.175). followed by subjective norm (p=0.011; OR=19.002) and perceived behavioral control (PBC) (p=2.344; OR=10.428). Nursing students' intention could be optimized through the effort to enhance attitude toward basic life support. enhancing external support (supervisors and nursing student peers). and enhancing perception about the function of self-control to utilize the resources (perceived behavioral control).
References
Ajzen I. (2012). The Theory of Planned Behavior. In P. A. M. Lange, A. W. Kruglanski & E. T. Higgins (Eds.). Handbook of Theories of Social psychology (1st ed 1, pp. 438-459). London, UK: Sage.
Arafat, Y., & Ibrahim, M. (2018). Social and Administrative Aspects of Pharmacy in Low and Middle Income Countries: The Use of Measurements and Health Behavioral Models to Improve Medication Adherence. Academic Press.
Chen, C.L., Tang, J.S., Lai, M.K., Hung, C.H., Hsieh, H.M., Yang, H.L., & Chuang, C.C. (2017). Factors Influencing Medical Saff's Intentions to Implement Family- Witnessed Cardiopulmonary Resuscitation: A Cross-Sectional, Multihospital Survey. Eur J Cardiovasc Nurs, 16(6), 492-501.
Chockalingam, P., & Wilde, A.A. (2014). Inherited arrhythmia syndromes leading to sudden cardiac death in the young. A global update and an Indian perspective. Indian Heart J, 66(1), 49-57.
Cooke, R., Dahdah, M., Norman, P., & French, D. (2016). How Well Does The Theory of Planned Behaviour Predict Alcohol Consumption?. Health Psychol. Rev, 10, 148-167.
El Sayed, M., Al Assaad, R., Aad, Y.A., Gharios, N., Refear, M.M., & Tamim, H. (2017). Measuring the impact of emergency medical services (EMS) on out-of-hospital cardiac arrest survival in a developing country; a key metric for EMS systems' performance. Medicine (Baltimore), 96(11), e7570-e7578.
Hoffmann, T., Bennett, S., & Del Mar, C. (2013). Evidence-based Practice Across the Health Professions. 2nd ed. Churchill Living Stone Australia: Elsevier.
Javadi, M., Kadkhodaee, M., aghoubi, M., Maroufi, M., & Shams, A. (2021). Applying Theory of Planned Behavior to predicting of patient Safety behaviors of Nurses. Ma Soc Med, 25(1), 52-55.
Kardong-Edgren, S.E., Oermann, M.H., & Odom-Maryon, T. (2010). Comparison of two instructional modalities for nursing student CPR skill acquisition. Resuscitation, 81(9), 1019–1024.
Kardong-Edgren,S., Oermann, M.H., & Odom-Maryon, T. (2012). Findings from a nursing student CPR study: Implications for staff development educators. J. Nurses Staff Dev, 28(6), 9–15.
Lapkin, s., Jones, T., & Giligan C. (2015). Using the Theory of Planned Behaviour to Examine Health Professional Students' Behavioural Intentions in Relation to Medication Safety and Collaborative Practice. Nurse Education Today, 35, 935-940.
Link, C.J., Aufderheide, T.P., & Niskanen, R.A. (2011). Take Heart America: a comprehensive, community-wide, systems-based approach to the treatment of cardiac arrest. Crit Care Med, 39(6), 26-33.
Magid, K.H., Ranney, M.L., & Risica, P.M. (2021). Using the theory of Planned Behavior to understand intentions to perform bystander CPR among college students. Journal of American College Health, 69(1), 47-52.
McDermott et al. (2015). The Theory of Planned Behaviour and Dietary Patterns: a Systematic Review and Meta-Analysis. Prev. Med, 81, 150-156.
Neumar, R.W., Shuster, M., Callaway, C.W., Gent, L.M., Atkins, D.L., Bhanji, F., Brooks, S.C., de Caen, A.R., Donnino, M.W., Ferrer, J.M., Kleinman, M.E., Kronick, S.L., Lavonas, E.J., Link, M.S., Mancini, M.E., Morrison, L.J., O'Connor, R.E., Samson, R.A., Schexnayder, S.M., Singletary, E.M., Sinz, E.H., Travers, A.H., Wyckoff, M.H., & Hazinski, M.F. (2015). Part 1: Executive Summary 2015 American Heart Association Guidelines update for cardiopulmonary resuscitation and emergency cardiovascular care. Circulation, 18(2), S315-67.
Panchal et al. (2015). An "Intention-Focused" Paradigm for Improving Bystander CPR Performance. Resuscitation, 88(6), 48-51.
Perkins, G.D., Handley, A.J., Koster, R.W., Castrén, M., Smyth, M.A., Olasveengen,T., Monsieurs, K.G., Raffay, V., Gräsner, J.T., Wenzel, V., Ristagno, G., & Soar, J. (2015). Adult basic life support and automated external defibrillation section Collaborators. European Resuscitation Council Guidelines for Resuscitation 2015: Section 2. Adult basic life support and automated external defibrillation. Resuscitation, 95(6), 81-99.
Shi, W., & Hall, B.J. (2021). Help-seeking intention among Chinese college students exposed to a natural disaster: an application of an extended theory of planned behavior (E-TPB). Soc Psychiatry Psychiatr Epidemiol, 56(7), 1273-1282.
Smith, A. (2015). Attitude, Subjective Norm, and Perceived Behavioral Control as Indicators for Nurse Educators' Intention to Use Critical Thinking Teaching Strategies: a Structural Equation Model Analysis. Michigan: Andrews University.
Talbot, A., Dorrian, J., & Chapman, J. (2015). Using the Theory of Planned Behaviour to examine enrolled nursing students' intention to care for patients with alcohol dependence: A survey study. Nurse Education Today, 35, 1054-1061.
Wati, S., Wihastuti, T., & Nasution, T. (2017). Analysis of Factors Affecting Behavioral intention of Nursing Student as Bystander Cardiopulmonary Resuscitation on Handling Out of Hospital Cardiac Arrest (OHCA) In Malang. Jurnal Ilmu keperawatan, 5(2), 230-239.
Wati, S. G., Wihastuti, T. A., & Nasution, T. H. (2021). Application Of The Theory Of Planned Behavior To Identify Nursing Student's Intention To Be A Bystander Cardiopulmonary Resuscitation. NurseLine Journal, 6(1), 24-30.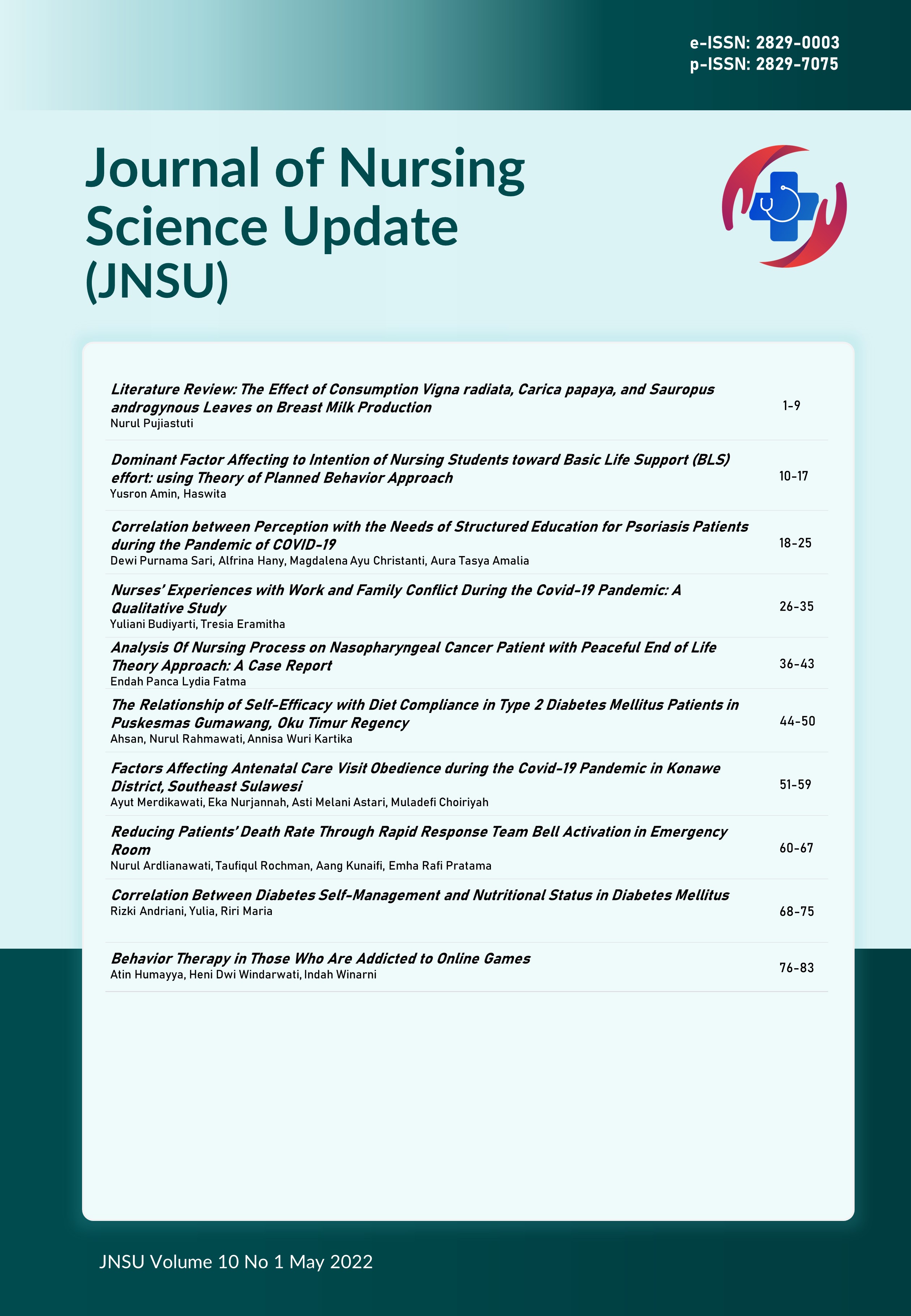 Downloads
License
Copyright (c) 2022 Journal of Nursing Science Update
This work is licensed under a Creative Commons Attribution-NonCommercial 4.0 International License.
The authors who publish their articles in Jurnal Ilmu Keperawatan (Journal of Nursing Science) must approve the copyright statement as follows :
 
1. The authors agree to automatic transfer of the copyright to the publisher
2. All material contained in this site is protected by law.
3. If you find one or more articles contained in the journal that violate or potentially infringe your copyright, please contact us via email jkn@ub.ac.id
4. The formal legal aspect of access to any information and articles contained in this journal site refers to the terms of the Creative Commons Attribution-nonCommercial 4.0 International (CC BY NC) license. This allows authors and others to share (copy and redistribute the material in any medium or fomat) and adapt (remix, transform, and build upon the material) for non-commercial purposes.
4. All Information contained in the journal is academic. The journal is not liable for any losses incurred by misuse of information from this site.
Para punulis yang mempublikasin artikel nya di jurnal ilmu keperawatan (Journal of Nursing Science) ini harus menyetujui pernyataan hak cipta seperti dibawah ini:
Penulis secara otomatis setuju bahwa hak cipta artikel berada pada penerbit. Seluruh materi yang terdapat dalam situs ini dilindungi oleh undang-undang. .
Apabila anda menemukan satu atau beberapa artikel yang terdapat dalam jurnal ini yang melanggar atau berpotensi melanggar hak cipta yang anda miliki, silahkan menghubungi kami melalui email jkn@ub.ac.id
Aspek legal formal terhadap akses setiap informasi dan artikel yang tercantum dalam situs jurnal ini mengacu pada ketentuan lisensi Creative Commons Attribution (CC BY NC). Penulis dapat menggunakan artikel dalam jurnal ini untuk disebarluaskan untuk kepentingan non-commercial.
Semua Informasi yang terdapat di jurnal ini bersifat akademik. Jurnal ini tidak bertanggung jawab terhadap kerugian yang terjadi karana penyalah gunaan informasi dari situs ini.
 
Jurnal Ilmu Keperawatan is licensed under https://creativecommons.org/licenses/by-nc/4.0/