Sitting Position and Low Back Pain (LBP) Incidents in Online Learning During the Pandemic of Covid-19: A Correlational Study
Keywords:
COVID-19, Low Back Pain, Online learning, Student, Sitting position
Abstract
COVID-19 has an impact on the education sector. Transitioning from face-to-face to online learning puts students at risk for back pain as they must perform most tasks in a sitting position with a non-ergonomic posture. The aim was to analyze the relationship between the sitting position and low back pain during online learning. In this study, we used a cross-section design. A total of 224 nursing students participated in the study. Sampling was done randomly, and data collection using online questionnaires. Data analysis was done descriptively and inferentially. The Chi-Square test was used to determine the correlation between sitting position and low back pain. The results showed that almost half (49.1%) of students sat down when learning online, and the incidence of low back pain in students was as much as 45.1%. In addition, the results also showed no significant association (p-value = 7,035 ≥ 0.05; r = 0.030) between sitting position and low back pain incidence in nursing students during online learning during the COVID-19 pandemic. The sitting position factor is not the primary determinant of low back pain. Therefore, further research is needed concerning other low back pain events.
References
Aeni, H. F., & Faudiah, R. (2019). Penyuluhan Posisi Kerja Duduk Dalam Mengurangi Keluhan Nyeri Punggung Bawah Pada Pengrajin Batik Tulis. Jurnal Pengabdian Harapan Ibu (JPHI), 1(2), 46. https://doi.org/10.30644/jphi.v1i2.191.
Aini, N., & Silvia, D. . (2019). Perbedaan Karakteristik Individu Dan Karakteristik Pekerjaan Terhadap Keluhan Low Back Pain Pada Tenaga Kesehatan Di Rsia Kenari Graha Medika Cileungsi Tahun 2019. Jurnal Ilmiah Kesehatan & Kebidanan, 8(2).
AlShayhan, F. A., & Saadeddin, M. (2018). Prevalence of low back pain among health sciences students. European Journal of Orthopaedic Surgery & Traumatology, 28(2), 165–170.
Anggraika, P. (2019). Hubungan Posisi Duduk Dengan Kejadian Low Back Pain (Lbp) Pada Pegawai Stikes. Jurnal 'Aisyiyah Medika, 4(1), 1–10. https://doi.org/10.36729/jam.v4i1.227
Angkouw Chyntia, et al. (2019). Hubungan Antara Posisi Duduk Dengan Keluhan Nyeri Punggung Pada Pengemudi Truk Tangki Di Pt. Pertamina Terminal Bahan Bakar Minyak (Bbm) Bitung. Kesmas, 7(5).
Aras, D. (2019). Perbandingan Efek Antara Mobilization of the Nervous as System Active Exercise Terhadap Perubahan Nyeri dan Fleksibilitas Penderita Low Back Pain Djohan Aras. 10(2), 161–168. https://doi.org/10.35816/jiskh.v10i2.139
Asiah, N. (2020). Gambaran Proses Pembelajaran E-learning Mahasiswa Fakultas Kedokteran Universitas YARSI Jakarta. Majalah Kesehatan Pharmamedika, 12(2).
Baker, R., Coenen, P., Howie, E., Williamson, A., & Straker, L. (2018). The short term musculoskeletal and cognitive effects of prolonged sitting during office computer work. International Journal of Environmental Research and Public Health, 15(8), 1678.
Brown, M. E., Treviño, L. K., & Harrison, D. A. (2005). Ethical leadership: A social learning perspective for construct development and testing. Organizational Behavior and Human Decision Processes, 97(2), 117–134.
Casas, A. S., Patiño, M. S., & Camargo, D. M. (2016). Association between the sitting posture and back pain in college students. Revista de La Universidad Industrial de Santander. Salud, 48(4), 446–454.
Christiana, E. (2020). Burnout akademik selama pandemi cOVID 19. Prosiding Seminar Nasional Bimbingan Dan Konseling Mengukuhkan Eksistensi Peran BK Pasca Pandemi COVID-19 Di Berbagai Setting Pendidikan, 8–15.
Credeur, D. P., Miller, S. M., Jones, R., Stoner, L., Dolbow, D. R., Fryer, S. M., Stone, K., & McCoy, S. M. (2019). Impact of prolonged sitting on peripheral and central vascular health. The American Journal of Cardiology, 123(2), 260–266.
Gupta, G., & Alok, M. (2020). Effectiveness of Plank Exercise in Low Back Pain. International Journal of Science and Research, 1182–1186.
Kautsar, F., & Dewi, N. K. (2020). Kursi Kerja Ergonomis PT XYZ. Journal of Industrial View, 2(2), 36–44.
Napitupulu, R. M. (2020). Dampak pandemi COVID-19 terhadap kepuasan pembelajaran jarak jauh. Jurnal Inovasi Teknologi Pendidikan, 7(1), 23–33.
Nurafriliano, I., Murwaningsih, T., & Susantiningrum, S. (2020). Pelaksanaan Pembelajaran Daring Di Masa COVID-19 Prodi Pendidikan Administrasi Perkantoran FKIP UNS (Sudut Pandang Mahasiswa). JIKAP (Jurnal Informasi Dan Komunikasi Administrasi Perkantoran), 4(3), 90–108.
Pillai, D., & Haral, P. (2018). Prevalence of Low Back Pain in Sitting Vs Standing Postures in Working Professionals in the Age Group of 30-60. International Journal of Health Sciences & Research, 8(1'0), 131–137.
Pramana, I. G. B. T., & Adiatmika, I. P. G. (2020). Hubungan posisi dan lama duduk dalam menggunakan laptop terhadap keluhan low back pain pada mahasiswa fakultas kedokteran universitas udayana.
Prawira, M. A., Yanti, N. P. N., Kurniawan, E., & Artha, L. P. W. (2017). Factors related musculoskeletal disorders on students of Udayana University in 2016. Journal of Industrial Hygiene and Occupational Health, 1(2), 101–118.
Prueksanusak, B., Rujivipatand, P., & Wongpatikaseree, K. (2019). An ergonomic chair with Internet of thing technology using SVM. 2019 4th Technology Innovation Management and Engineering Science International Conference (TIMES-ICON), 1–5.
Rasyidah, Dayani, H., & Maulani, M. (2019). Masa Kerja, Sikap Kerja Dan Jenis Kelamin Dengan Keluhan Nyeri Low Back Pain. Real in Nursing Journal, 2(2), 66. https://doi.org/10.32883/rnj.v2i2.486
Setiawan, D., & Fadilah, S. (2019). Faktor-Faktor Yang Berhubungan Dengan Kejadian Nyeri Tulang Belakang Pada Mahasiswa Keperawatan. Medika Respati : Jurnal Ilmiah Kesehatan, 14(1), 51. https://doi.org/10.35842/mr.v14i1.210
Shaukat, M., Zafar, Q., Kazmi, S., Sundas, Z., Zafar, I., & Hussain, A. (2020). Frequency of Neck and Back Pain in Young and Middle-Aged Adults of Islamabad and Rawalpindi Due to Usage of Electronic Gadgets during COVID 19 Quarantine. Journal of Physiotherapy Research, 4(7), 1–4.
Simarmata, J., Sari, D. C., Purba, D. W., & Hasibuan, M. S. (2019). Inovasi Pendidikan Lewat Transpormasi Digital. Medan: Yayasan Kita Menulis.
Sudarsana, I. K., Lestari, N. G. A. M. Y., Wijaya, I. K. W. B., Krisdayanthi, A., Andayani, K. Y., Trisnadewi, K., & Aryana, I. M. P. (2020). COVID-19: Perspektif Pendidikan (Issue October).
Surya, R., & Legiran, M. B. A. (2018). Hubungan Posisi Duduk dan Ketidaksesuaian Desain Tempat Duduk Sepeda Motor dengan Kejadian Nyeri Pingang pada Pengendara Ojek Daring. Majalah Kedokteran Sriwijaya, April, 74–84.
Syarifudin, A. S. (2020). Impelementasi pembelajaran daring untuk meningkatkan mutu pendidikan sebagai dampak diterapkannya social distancing. Jurnal Pendidikan Bahasa Dan Sastra Indonesia Metalingua, 5(1), 31–34.
Thorik, S. H. (2020). Efektivitas Pembatasan Sosial Berskala Besar Di Indonesia Dalam Penanggulangan Pandemi COVID-19. Jurnal Adalah : Buletin Hukum Dan Keadilan, 4(1), 115–120.
Vujcic, I., Stojilovic, N., Dubljanin, E., Ladjevic, N., Ladjevic, I., & Sipetic-Grujicic, S. (2018). Low back pain among medical students in Belgrade (Serbia): a cross-sectional study. Pain Research and Management, 2018.
Widjayanti, Y., Ragil, R., Pratiwi, D., Katolik, S., Vincentius, S., & Surabaya, A. P. (2018). Punggung Bawah Pada Mahasiswa Stikes Katolik St Vincentius a Paulo Surabaya. 001, 83–87.
Wijaya, P. G. P. M., Wijayanthi, I. A. S., & Widyastuti, K. (2019). Hubungan posisi dan lama duduk dengan nyeri punggung bawah pada pemain game online. Intisari Sains Medis, 10(3), 834–839. https://doi.org/10.15562/ism.v10i3.495
World Health Organization. (2021). Coronavirus disease (COVID-19) Dasboard. https://covid19.who.int/
Yuliana, Y. (2020). Corona virus diseases (COVID-19): Sebuah tinjauan literatur. Wellness And Healthy Magazine, 2(1), 187–192. https://doi.org/10.30604/well.95212020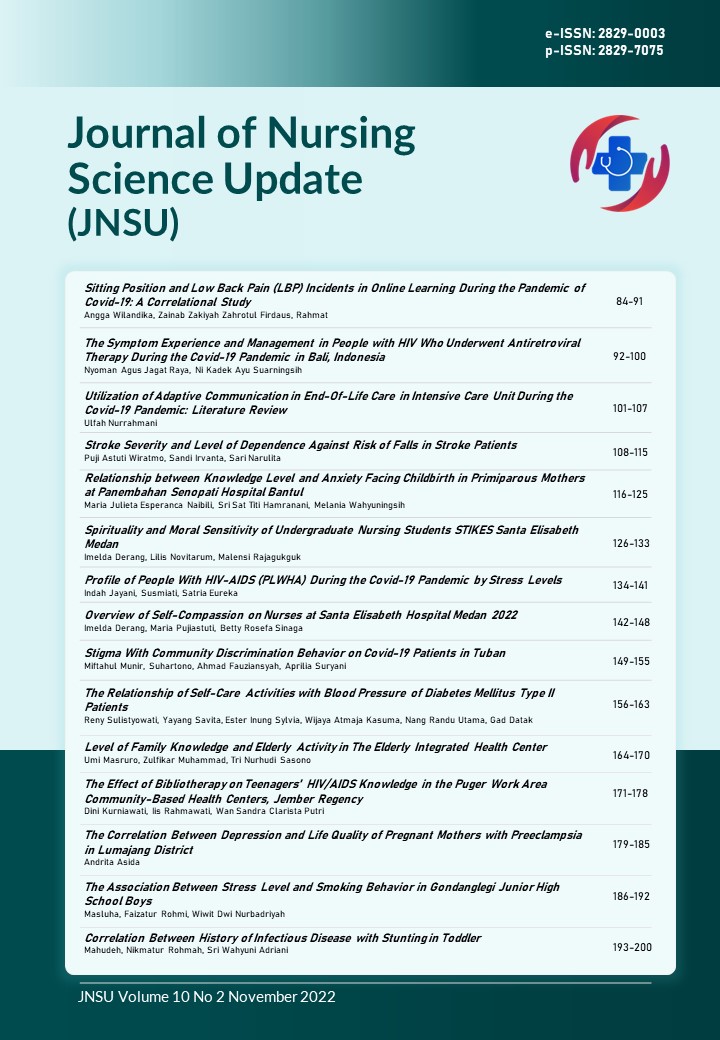 Downloads
License
Copyright (c) 2022 Journal of Nursing Science Update
This work is licensed under a Creative Commons Attribution-NonCommercial 4.0 International License.
Authors published in this journal agree to the following terms:
The copyright of each article is held by its author.
Author grants the journal first publication rights with the work simultaneously licensed under the Creative Commons Attribution-NonCommercial 4.0 International License or CC BY-NC 4.0 license, allowing others to share the work with acknowledgment of authorship and initial publication in this journal.
Authors may enter into separate additional contractual agreements for the non-exclusive distribution of the published journal version of the work (for example, posting it to an institutional repository or publishing it in a book), with acknowledgment of their initial publication in this journal.
Authors are permitted and encouraged to post their work online (e.g. in an Institutional Repository or on their website) before and during the submission process, as this can result in a productive exchange, as well as earlier and larger citations of the published work.
Articles and all related material published are distributed under Creative Commons Attribution-NonCommercial 4.0 International License or CC BY-NC 4.0 license.
All articles in this journal are the sole responsibility of the author. Journal of Nursing Science Update (JNSU) provides open access to anyone so that the information and findings in this article are useful for everyone. JNSU can be accessed and downloaded free of charge, free of charge, subject to Creative Commons Attribution-NonCommercial 4.0 International License or CC BY-NC 4.0 license .

JNSU  is licensed under a  Creative Commons Attribution-NonCommercial 4.0 International License or CC BY-NC 4.0 license.