The Relationship of Self-Efficacy with Learning Discipline of Teenagers during COVID-19 Pandemic at East Kalimantan, Indonesia
Keywords:
Self-Efficacy, Learning Discipline, Covid-19 Pandemic, Teenagers
Abstract
As a result of the COVID-19 pandemic, learning activities are now conducted at various levels using online methods, giving students more freedom to organize their learning activities. For this reason, students must be disciplined to complete their learning activities. One of the factors that play an important role in student learning discipline is seIf-efficacy. The purpose of this study was to determine the relationship between self-efficacy and teenagers' learning discipline during the COVlD-19 pandemic. This research design used correlational descriptive with the cross-sectional approach. The research sample amounted to 254 respondents who were taken with stratified random sampling technique. Data were collected through questionnaires to measure teenagers' self-efficacy and learning discipline during the COVID-19 pandemic. Data were analyzed using the Spearman rank test. The results showed that self-efficacy of teenagers was in the high category as much as 81.5%, and learning discipline during the COVID-19 pandemic was in a good category as much as 42.9%. The findings showed that the significance value was 0.000 (α = 0.05) and the correlation coefficient was 0.309. So we can conclude that there is a significant relationship between teenagers' seIf-efficacy and Learning discipline during the COVlD-19 pandemic. It is expected that nurses and teachers will counsel students and supervise learning activities to ensure that students maintain their learning discipline.
References
Atieka, N. (2015). Self Efficacy Remaja Panti Asuhan dan Peningkatannya Melalui Pendekatan Bimbingan Kelompok. Jurnal Ilmu Pendidikan, Psikologi, Bimbingan Dan Konseling, 5(2), 59–68.
Elvira, R., & Mudjiran. (2019). Hubungan self-efficacy dengan kedisiplinan belajar siswa smk. Jurnal Neo Konseling, 1(2), 1–7. https://doi.org/10.24036/00108kons2019
Emeralda, G. N., & Kristiana, I. F. (2017). Hubungan Antara Dukungan Sosial Orang Tua Sekolah Menengah Pertama. Empati, 7(Nomor 3), 154–159.
https://www.neliti.com/id/publications/178064/hubungan-antara-dukungan-sosial-orang-tua-dengan-motivasi-belajar-pada-siswa-sek
Hayat, A. A., Shateri, K., Amini, M., & Shokrpour, N. (2020). Relationships Between Academic Self-Efficacy, Learning-Related Emotions, and Metacognitive Learning Strategies with Academic Performance in Medical Students: A Structural Equation Model. BMC Medical Education, 20(1), 1–11. https://doi.org/10.1186/s12909-020-01995-9
Hidayat, D. R., Rohaya, A., Nadine, F., & Ramadhan, H. (2020). Kemandirian Belajar Peserta Didik Dalam Pembelajaran Daring Pada Masa Pandemi Covid -19. Perspektif Ilmu Pendidikan, 34(2), 147–154. https://doi.org/10.21009/pip.342.9
Kemendikbud RI. (2020). Mendikbud Terbitkan SE tentang Pelaksanaan Pendidikan dalam Masa Darurat Covid-19. Kemendikbud RI. https://www.kemdikbud.go.id/main/blog/2020/03/mendikbud-terbitkan-se-tentang-pelaksanaan-pendidikan-dalam-masa-darurat-covid19
Novrianto, R., Marettih, A. K. E., & Wahyudi, H. (2019). Validitas Konstruk Instrumen General Self Efficacy Scale Versi Indonesia. Jurnal Psikologi, 15(1), 1. https://doi.org/10.24014/jp.v15i1.6943
Reski, N., Taufik, & Ifdil. (2017). Konsep diri dan kedisiplinan belajar siswa. Jurnal Educatio: Jurnal Pendidikan Indonesia, 3(2), 85–91. https://jurnal.iicet.org/index.php/j-edu/article/viewFile/184/210
Rustika, I. M. (2012). Efikasi Diri: Tinjauan Teori Albert Bandura. Buletin Psikologi, 20(1–2), 18–25. https://doi.org/10.22146/bpsi.11945
Saputro, K. Z. (2018). Memahami Ciri dan Tugas Perkembangan Masa Remaja. Aplikasia: Jurnal Aplikasi Ilmu-Ilmu Agama, 17(1), 25. https://doi.org/10.14421/aplikasia.v17i1.1362
Tsang, S. K. M., Hui, E. K. P., & Law, B. C. M. (2012). Self-efficacy as a positive youth development construct: A conceptual review. The Scientific World Journal, 2012, 7. https://doi.org/10.1100/2012/452327
Unicef, WHO, & IFRC. (2020). Key Messages and Actions for COVID-19 Prevention and Control in Schools. In Unicef.
WHO. (2020). Co V I D ‑ 19 Strategy Up Date. WHO. WWW.who.int/emergencies/en
Wijaya, A. A. A. R., & Widiasavitri, P. N. (2019). Hubungan Dukungan Sosial Teman Sebaya Terhadap Motivasi Berprestasi pada Remaja Awal di Kota Denpasar. Jurnal Psikologi Udayana, 6(02), 261. https://doi.org/10.24843/jpu.2019.v06.i02.p05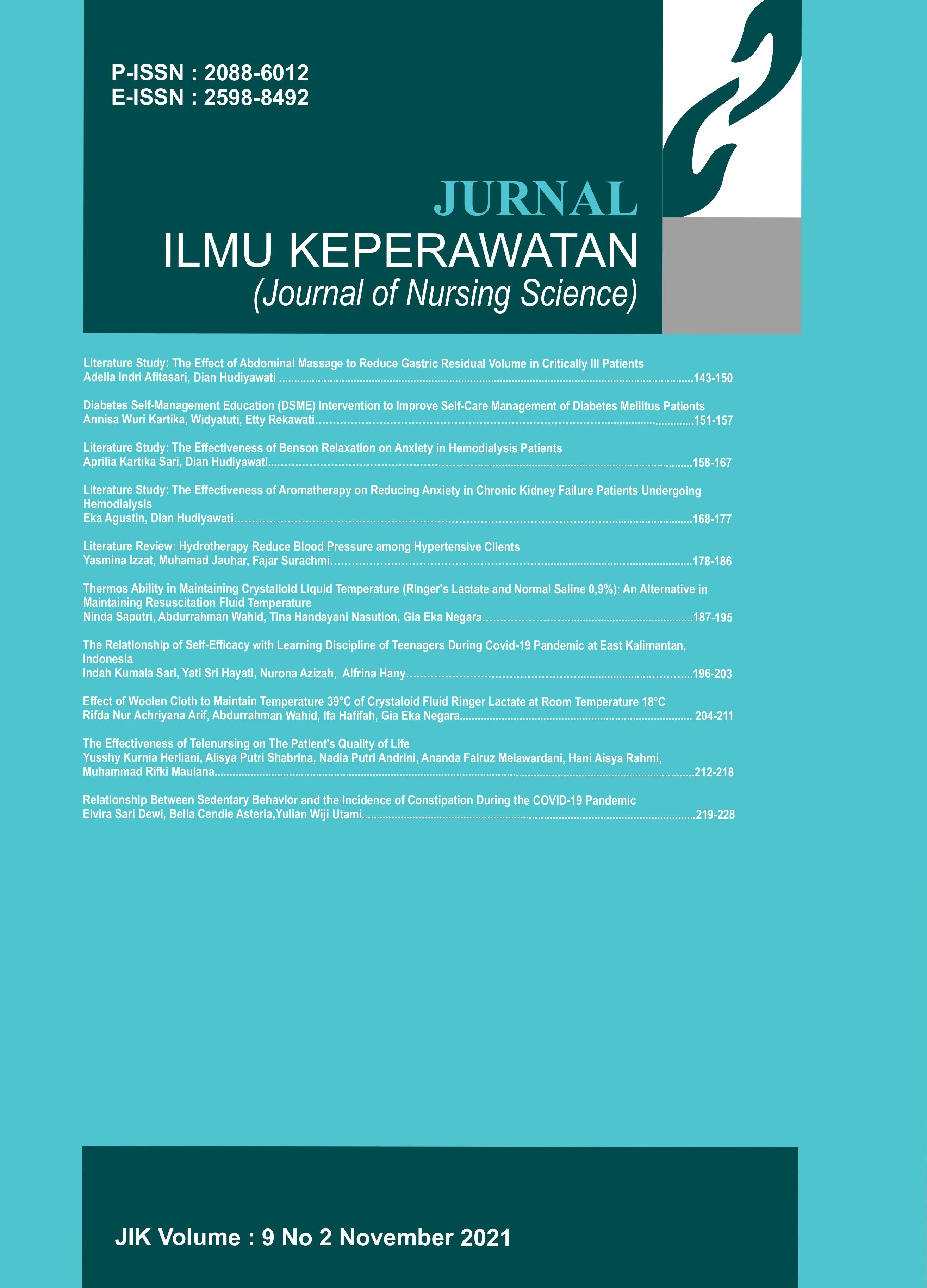 Downloads
License
The authors who publish their articles in Jurnal Ilmu Keperawatan (Journal of Nursing Science) must approve the copyright statement as follows :
 
1. The authors agree to automatic transfer of the copyright to the publisher
2. All material contained in this site is protected by law.
3. If you find one or more articles contained in the journal that violate or potentially infringe your copyright, please contact us via email jkn@ub.ac.id
4. The formal legal aspect of access to any information and articles contained in this journal site refers to the terms of the Creative Commons Attribution-nonCommercial 4.0 International (CC BY NC) license. This allows authors and others to share (copy and redistribute the material in any medium or fomat) and adapt (remix, transform, and build upon the material) for non-commercial purposes.
4. All Information contained in the journal is academic. The journal is not liable for any losses incurred by misuse of information from this site.
Para punulis yang mempublikasin artikel nya di jurnal ilmu keperawatan (Journal of Nursing Science) ini harus menyetujui pernyataan hak cipta seperti dibawah ini:
Penulis secara otomatis setuju bahwa hak cipta artikel berada pada penerbit. Seluruh materi yang terdapat dalam situs ini dilindungi oleh undang-undang. .
Apabila anda menemukan satu atau beberapa artikel yang terdapat dalam jurnal ini yang melanggar atau berpotensi melanggar hak cipta yang anda miliki, silahkan menghubungi kami melalui email jkn@ub.ac.id
Aspek legal formal terhadap akses setiap informasi dan artikel yang tercantum dalam situs jurnal ini mengacu pada ketentuan lisensi Creative Commons Attribution (CC BY NC). Penulis dapat menggunakan artikel dalam jurnal ini untuk disebarluaskan untuk kepentingan non-commercial.
Semua Informasi yang terdapat di jurnal ini bersifat akademik. Jurnal ini tidak bertanggung jawab terhadap kerugian yang terjadi karana penyalah gunaan informasi dari situs ini.
 
Jurnal Ilmu Keperawatan is licensed under https://creativecommons.org/licenses/by-nc/4.0/