Correlation between Perception with The Needs of Structured Education for Psoriasis Patients during The Pandemic of COVID-19
Keywords:
Psoriasis, Perception, Structured education
Abstract
The number of psoriasis patients visiting the health services during the COVID 19 pandemic is decreasing. Meanwhile, routine control is needed to maintain the prognosis education of psoriasis. The patient is suspected of having frequent problems and flares at home. Therefore, it is necessary to study the perception in assessing the need for structured education in a group of psoriasis patients. This study aimed to determine the correlation between perception with the need for structured education. Twenty psoriasis patients at General Hospital Dr. Saiful Anwar Malang were interviewed by telephone. The independent data consisted of patient perception (B-IPQ) of psoriasis, while the dependent data consisted of the need for structured education. Bivariate data showed the correlation between perception (B-IPQ) with the need for structured education, indicated by a p-value = 0.05. In conclusion, this study's perception (B-IPQ) level significantly correlates with the need for structured education. Promoting health education among people with psoriasis is essential to create a good perception of this diagnosis.  
References
Badan Mutu Pelayanan Kesehatan. (2020). Kumpulan Referensi Layanan Kesehatan Esensial Pada Masa Pandemi Badan Mutu Pelayanan Kesehatan. http://badanmutu.or.id/2020/09/02/kumpulan-referensi-layanan-kesehatan-esensial-pada-masa-pandemi/.
Bartholomew, L.K., Parcel, G.S., Kok, G., and Gottlieb, N. H. (2006). Intervention Mapping Step 1: Needs Assessments. in Planning Health Promotion Programs: An Intervention Mapping Approach, pp. 193–250, Jossey-Bass, San Francisco, Calif, USA.
Gudjonsson, JE., Elder, JT. (2012). Psoriasis: General Medicine. Wolff, K., Goldsmith, LA., Katz (8nd ed., pp. 197-230 2). New York. Mc Grew Hill.
International Psoriasis Council. (2020). Statement on the Coronavirus (COVID-19) Outbreak, March 11. https://www.psoriasiscouncil.org/blog/Statement-on-COVID-19-and-Psoriasis.htm.
Jacobson, C.C., & Kimball, A. B. (2004). Rethinking the Psoriasis Area and
Severity Index: The Impact of the Area Should be Increased. British Journal of
Dermatology, 151(2), 381–387. https://doi.org/10.1111/j.1365-2133.2004.06035.x.
Javitz, HS., Ward, MM., Farber, E. Nail, L, Vallow, SG. (2002). Psoriatic Arthritis in the United States. J Am Acad Dermatol, 46, 850-860.
Kelompok Studi Psoriasis Indonesia Perhimpunan Dokter Spesialis Kulit dan Kelamin Indonesia. (2014). Pedoman Tatalaksana Psoriasis dan Informed Consent.
Krisnarto, E., Novitasari, A., & Aulirahma, D. M. (2016). Faktor Prediktor Kualitas Hidup Pasien Psoriasis. Jurnal Unimus, 49, 43–51.
https://jurnal.unimus.ac.id/index.php/kedokteran/article/view/2584/2434.
Lebwohl, M., Rivera-Oyola, R., Murrell, DF. (2020). Should Biologics for Psoriasis.
Be Interrupted in the Era of COVID-19? J Amer Acad Dermatol, in press.
Medicinsk Teknologivurdering. (2009). Sundhedsstyrelsen, Monitorering & Medicinsk Teknolo-givurdering. Patientuddannelse—en Medicinsk Teknologivur-Dering, 11, 3. Odense Universitet Hospital.
Skarpathiotakis, M., Fairlie, C., & Ryan, S. (2006). Specialized education for patients with psoriasis: a patient survey on its value and effectiveness. Dermatology Nursing, 18(4), 358–361.
National Psoriasis Foundation. National Psoriasis Foundation Benchmark Survey. (2006). http:// www.psoriasis.org/files/pdfs/press/npfsurvey.pdf.
Price, KN., Frew, JW., Hsiao, JL., MD., Vivian., Y., Shi VY. (2020). COVID-19 and Immunomodulator/ Immunosuppressant Use in Dermatology. JAAD. Available from https://doi.org/10.1016/j.jaad.2020.03.046.
Reich K, Ortonne JP, Gottlieb AB. (2012). Successful treatment of moderate to severe plaque psoriasis with the PEGylated Fab' certolizumab pegol: results of a phase II randomized, placebo-controlled trial with a re-treatment extension. Br J Dermatol. 167(1): 180–190.
Shanshal M. Is the Coronavirus (COVID 19) (2020). Pandemic an Indication to temporarily Modify Dermatology Management Plans? Journal of Drugs in Dermatology April; 19(4): 436-7.
Tim Satgas Covid-19 PERDOSKI. (2020). Pandemi Covid-19 dan Implikasinya
Terhadap Praktik Dermatologi dan Venereologi di Indonesia. Pengurus Pusat PERDOSKI.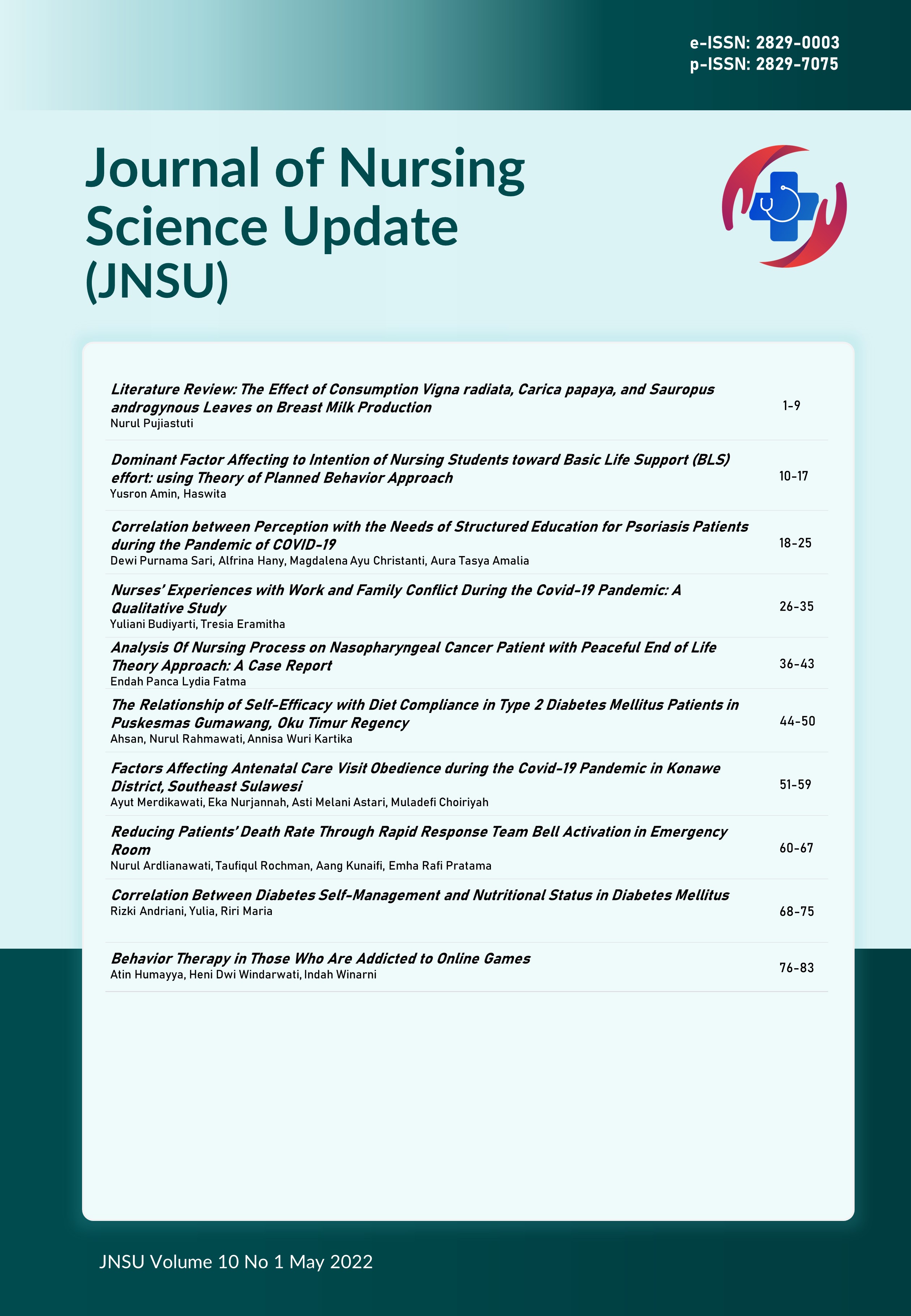 Downloads
License
Copyright (c) 2022 Journal of Nursing Science Update
This work is licensed under a Creative Commons Attribution-NonCommercial 4.0 International License.
The authors who publish their articles in Jurnal Ilmu Keperawatan (Journal of Nursing Science) must approve the copyright statement as follows :
 
1. The authors agree to automatic transfer of the copyright to the publisher
2. All material contained in this site is protected by law.
3. If you find one or more articles contained in the journal that violate or potentially infringe your copyright, please contact us via email jkn@ub.ac.id
4. The formal legal aspect of access to any information and articles contained in this journal site refers to the terms of the Creative Commons Attribution-nonCommercial 4.0 International (CC BY NC) license. This allows authors and others to share (copy and redistribute the material in any medium or fomat) and adapt (remix, transform, and build upon the material) for non-commercial purposes.
4. All Information contained in the journal is academic. The journal is not liable for any losses incurred by misuse of information from this site.
Para punulis yang mempublikasin artikel nya di jurnal ilmu keperawatan (Journal of Nursing Science) ini harus menyetujui pernyataan hak cipta seperti dibawah ini:
Penulis secara otomatis setuju bahwa hak cipta artikel berada pada penerbit. Seluruh materi yang terdapat dalam situs ini dilindungi oleh undang-undang. .
Apabila anda menemukan satu atau beberapa artikel yang terdapat dalam jurnal ini yang melanggar atau berpotensi melanggar hak cipta yang anda miliki, silahkan menghubungi kami melalui email jkn@ub.ac.id
Aspek legal formal terhadap akses setiap informasi dan artikel yang tercantum dalam situs jurnal ini mengacu pada ketentuan lisensi Creative Commons Attribution (CC BY NC). Penulis dapat menggunakan artikel dalam jurnal ini untuk disebarluaskan untuk kepentingan non-commercial.
Semua Informasi yang terdapat di jurnal ini bersifat akademik. Jurnal ini tidak bertanggung jawab terhadap kerugian yang terjadi karana penyalah gunaan informasi dari situs ini.
 
Jurnal Ilmu Keperawatan is licensed under https://creativecommons.org/licenses/by-nc/4.0/