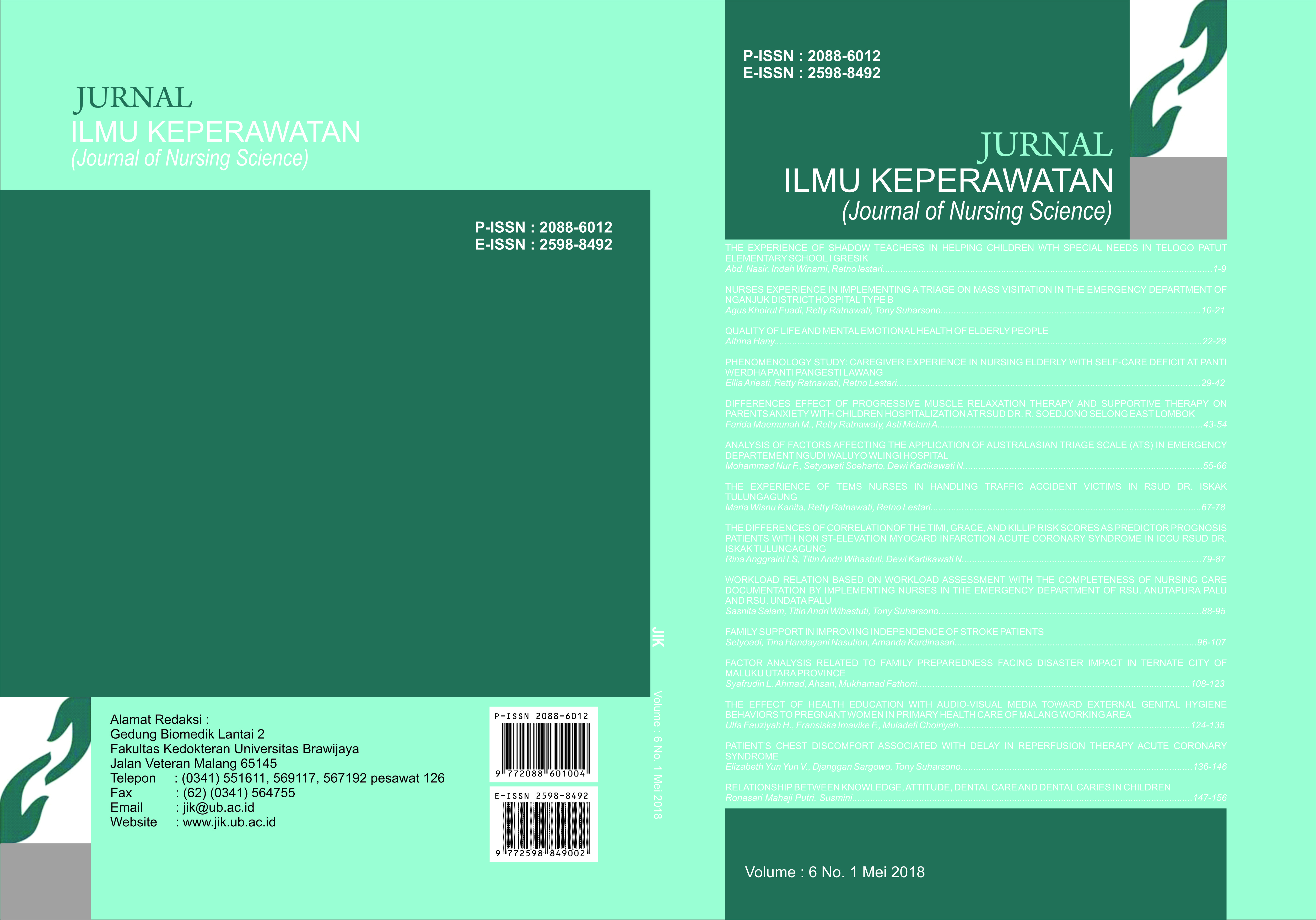 THE EFFECT OF HEALTH EDUCATION WITH AUDIO-VISUAL MEDIA TOWARD EXTERNAL GENITAL HYGIENE BEHAVIORS TO PREGNANT WOMEN IN PRIMARY HEALTH CARE OF MALANG WORKING AREA
Abstract
External genital hygiene is an important part to prevent pregnancy infection. In Indonesia, 75% of genital infection occurance is caused by poor hygiene behaviour. Genital infections causes premature labor, PROM, and neonatal death. Although health education has been given based on visual approaches, 60,9% of pregnant women still have a poor genital hygiene behaviour. The usage of audio-visual media is expectable to improve genital hygiene behaviour of pregnant women. This research is aimed to determine the effect of audio-visual media usagetoward genital hygiene behaviour to pregnant women. Quasy experimental studies using nonrandomizedpretest-posttest control group design and divided into intervention group with audio-visual media and leaflet (n=10) and control group with leaflet (n=10). Samples were selected by accidental-sampling method. Data were collected by questionnaires. The results showed that the increase score of intervention group afterbeing given the education is 4.0(Paired t-Test, p-value=0.000). On the control group, the increase score afterbeing given the education is 1.6(Paired t-Test, p-value=0.005). The result of Unpaired t-Test on the intervention and control group showed that the p-value is 1.000 (p value>0.05). The conclusion is there is not behaviour difference of external genital hygiene on the intervention and control group. The audio-visual media and leaflet usage has a significant effect in improving genital hygiene behavior of pregnant women. It is suggested for researchers to add the usage of education media as aids equipment to measure hygiene behaviour of pregnant women more objective.


Keywords
health education; audio-visual; genital hygiene behaviors; pregnant women
References
Ameliawati, S. & Widyastuti, T. (2015). Perbedaan Efektiftas Penyuluhan
Kesehatan Menggunakan Metode Demonstrasi dan Pemutaran Video Terhadap Penurunan Indeks Kebersihan Gigi dan Mulut Pada Siswa Kelas 3 SD Uchuwwatul Islam Kota Bandung. Bandung: Politeknik Kemenkes Bandung.
Cankaya S. & Yilmas D. S. (2015). Factors Associated with Genital Hygiene Behaviours in Pregnant and Nonpregnant Women in Turkey. International Journal of Human Sciences, 12(1), 920-932. doi: 10.14687/ijhs.v12i1.3126.
Dipali N., Seema A., Rupali G. (2009). Impact of Health Education on Knowledge andPractices About Menstruation Among AdolescentSchool Girls of Kalamboli, Navi-Mumbai.Health and Population: Perspectives and Issues Vol. 32 (4), 167- 175.
Djamarah, S. B. (2011). Strategi BelajarMengajar. Jakarta: PT. RinekaCipta.
Efendi, Ferry, Makhfudli. (2009). Keperawatan Kesehatan Komunitas: Teori dan Praktik dalam Keperawatan. Jakarta: Salemba Medika.
Fathurrohman, P. (2007). Strategi Belajar Mengajar. Bandung: PT. Refika Aditama.
Haryoko, S. (2009). Efektivitas Pemanfaatan Media Audio-Visual Sebagai Alternatif Optimalisasi Model Pembelajaran. Jurnal Edukasi@Elektro Vol. 5, No. 1, Maret 2009, hlm. 1-10
Hay P. & Czeizel A. E. (2007). Asymptomatic Trichomonas and Candida Colonization and Pregnancy Outcome. Best Practice & Research Clinical Obstetric and Gynaecology 21 : 403-9
Hermawan, H. (2007). Media Pembelajaran SD. Bandung: Upi Pres.
Kamath, P., Pais, M., Nayak, M. G., D'souza, C. P. (2014). An Awareness Program On Prevention Of Vaginal Candidiasis Among Pregnant Women. Nitte University Journal of Health Science. Vol. 4, No.2, June 2014, ISSN 2249-7110.
Kavlak, O., Saruhan, A., Er, S., ªen, E., Sevil, Ü. (2010). Gebelerin Genital Hijyen Davranýþlarýnýn Belirlenmesi. E.Ü. HYO Derg, 26, 1, 53-63.
Kementrian Kesehatan Republik Indonesia. (2012). Profil Data Kesehatan Tahun 2011. Jakarta : Kementrian Kesehatan Republik Indonesia.
Mahmood, K. T. (2011). Pengaruh Personal Vulva hygiene terhadap terjadinya infeksi vagina pada ibu hamil di desa Sukarame Kediri tahun 2011. Jurnal Kesehatan Reproduksi vol.4 no.11 tahun 2011.
Manuaba, I. A. C., Manuaba, I. B. G. F., Manuaba, I. B. G. (2009). Memahami Kesehatan Reproduksi Wanita Ed. 2. Jakarta: EGC.
Manurung, S. (2006). Pendidikan Kesehatan dalam Keperawatan Maternitas. Jakarta: TIM.
Margareth, Z. H. (2013). Kehamilan, Persalinan, dan Nifas. Yogyakarta: Nuha Medika.
Maulana, H. D. J. (2009). Promosi Kesehatan. Jakarta : EGC.
Murtiastutik, D. (2008). HIV & AIDS in: Buku Ajar Infeksi Menular Seksual. Surabaya: Airlangga University Press, pp. 211-231.
Notoatmodjo, S. (2011). Promosi Kesehatan & Ilmu Perilaku. Jakarta: Rineka Cipta.
____________. (2012). Promosi kesehatan dan Perilaku Kesehatan. Jakarta : Rineka Cipta.
Nwambo, Joshua C., Nwankwo, Clementina U., Ilo, Clementine I., Ezenduka, Pauline O., Makachi, Monica C. (2016). Preventive Health Behaviours for Infection Among Pregnant Mothers Attending Antenatal
Clinics in Nnamdi Azikiwe University Teaching Hospital, Nnewi, Anambra
State, Nigeria. Journal of Research in Nursing and Midwifery (JRNM) (ISSN: 2315-568) Vol. 5(2) pp. 045-054, February, 2016.
Ott, M. A., Ofner, S., Fortenberry, J. D. (2009). Beyond douching: use of feminine hygiene products and STI risk among young women. J Sex Med, 6, 5, 1335-1340. [PMID:19170863].
Purnama, D. E. (2013). Efektifitas Pendidikan Kesehatan Terhadap Tingkat Pengetahuan Remaja Perempuan Tentang Pencegahan
Keputihan Di SMK YMJ Ciputat. Jakarta: UIN.
Putri, S. N. (2012). Hubungan Akses Informasi Kesehatan dengan Health Literacy Mahasiswa Universitas Dian Nuswantoro Semarang. Semarang: Universitas Dian Nuswantoro Semarang.
Suryati. B. (2012). Perilaku Kebersihan Remaja Saat Mentruasi. Jurnal Health Quality. 2012; 3(1): 54-65.
Usman, B. P. R. (2013). Hubungan Perilaku Hygiene Organ Genitalia Eksterna dengan Jenis Keputihan Pada Ibu Hamil Usia Gestasi 11-24 Minggu (Studi kasus Dilakukan di Rumah Sakit Medirossa Cikarang Periode April-Juni 2013). Jakarta: Universitas Islam Negeri Syarif
Hidayatullah.
DOI:
http://dx.doi.org/10.21776/ub.jik.2018.006.01.12
Refbacks
There are currently no refbacks.
Copyright (c) 2018 Jurnal Ilmu Keperawatan
This work is licensed under a
Creative Commons Attribution-NonCommercial 4.0 International License
.