HUBUNGAN PENGGUNAAN WAKTU PERILAKU KURANG GERAK (SEDENTARY BEHAVIOUR) DENGAN OBESITAS PADA ANAK USIA 9-11 TAHUN DI SD NEGERI BEJI 02 KABUPATEN TULUNGAGUNG
Abstract
Obesitas pada anak merupakan keadaan patologis ditandai dengan penimbunan lemak berlebih daripada yang diperlukan untuk fungsi tubuh akibat konsumsi energi terlalu berlebih dibandingkan dengan pemakaian energi yang ditandai dengan Indeks Massa Tubuh (IMT) menurut umur ≥ 2 SD. Sedentary behavior merupakan sekelompok perilaku yang terjadi saat duduk atau berbaring yang membutuhkan pengeluaran energi yang sangat rendah. Sebanyak 21.08% siswa obesitas di SD Negeri Beji 02 Tulungagung usia 9-11 tahun. Penelitian ini bertujuan untuk mengetahui hubungan penggunaan waktu perilaku kurang gerak (sedentary behaviour) dengan obesitas pada anak usia 9-11 tahun di SD Negeri Beji 02 Kabupaten Tulungagung. Desain penelitian ini adalah case control dengan kohort retrospektif, menggunakan sampel sejumlah 34 siswa yang terdiri dari 17 anak obesitas dan 17 anak berat badan normal yang dipilih dengan uji hipotesis perbedaan 2 proporsi. Penelitian menggunakan timbangan injak pegas, microtoise, dan kuesioner. Hasil uji korelasi Spearman menunjukkan significancy sebesar 0,000 dengan value sebesar 0.589. Terdapat 14 (82.4%) anak obesitas sering melakukan sedentary behaviour dan 4 (23.5%) pada anak berat badan normal dengan total rata-rata keduanya 8.5359±1.05233 jam/minggu. Hal ini menunjukkan bahwa anak obesitas lebih sering melakukan sedentary behaviour dibandingkan dengan anak berat badan normal dengan nilai efektivitas 58.9% sedangkan sisanya dipengaruhi faktor lain, mengingat bahwa obesitas sebabkan oleh mulitifaktorial. Kata Kunci : Obesitas Anak, Sedentary Behaviour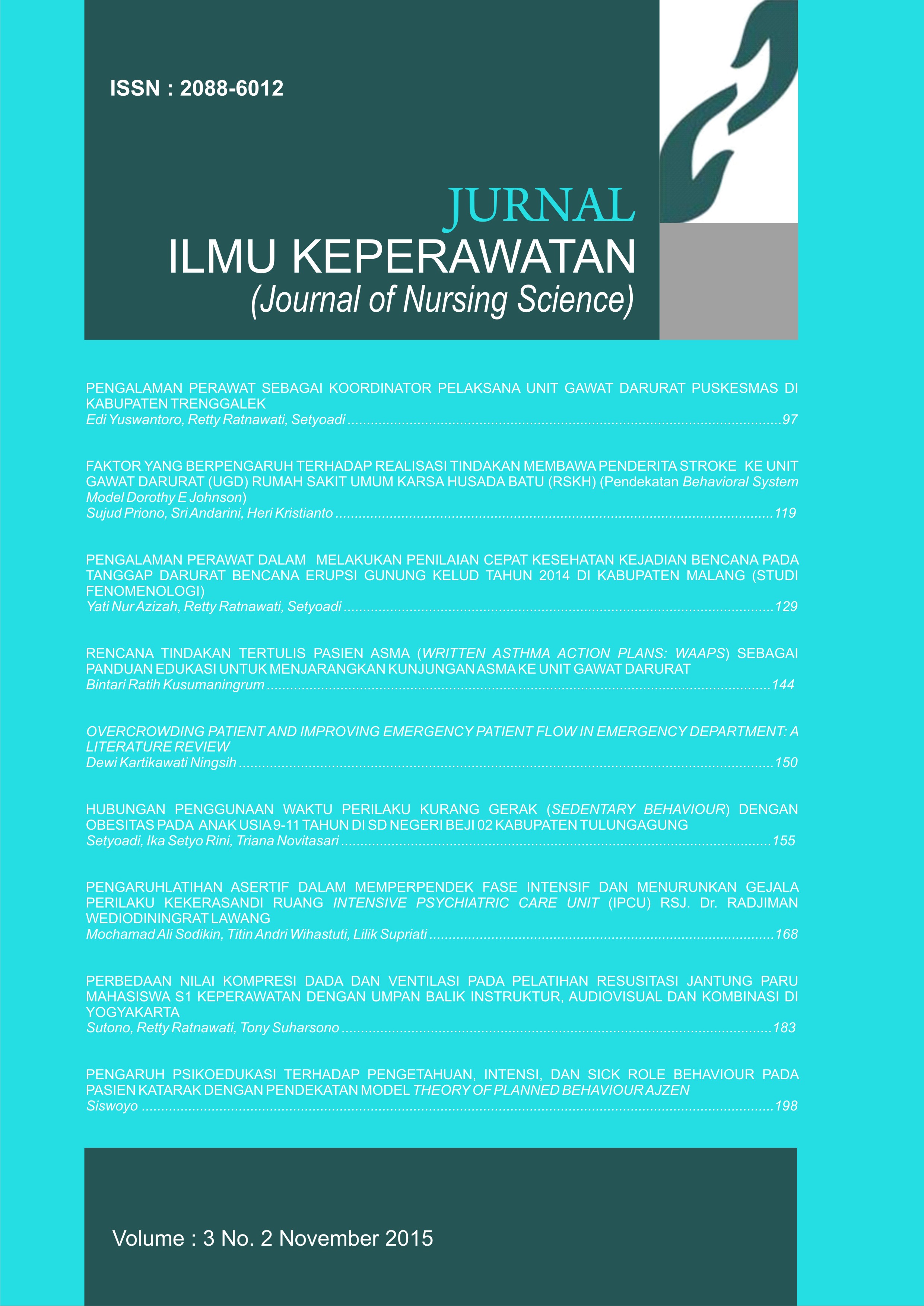 License
The authors who publish their articles in Jurnal Ilmu Keperawatan (Journal of Nursing Science) must approve the copyright statement as follows :
 
1. The authors agree to automatic transfer of the copyright to the publisher
2. All material contained in this site is protected by law.
3. If you find one or more articles contained in the journal that violate or potentially infringe your copyright, please contact us via email jkn@ub.ac.id
4. The formal legal aspect of access to any information and articles contained in this journal site refers to the terms of the Creative Commons Attribution-nonCommercial 4.0 International (CC BY NC) license. This allows authors and others to share (copy and redistribute the material in any medium or fomat) and adapt (remix, transform, and build upon the material) for non-commercial purposes.
4. All Information contained in the journal is academic. The journal is not liable for any losses incurred by misuse of information from this site.
Para punulis yang mempublikasin artikel nya di jurnal ilmu keperawatan (Journal of Nursing Science) ini harus menyetujui pernyataan hak cipta seperti dibawah ini:
Penulis secara otomatis setuju bahwa hak cipta artikel berada pada penerbit. Seluruh materi yang terdapat dalam situs ini dilindungi oleh undang-undang. .
Apabila anda menemukan satu atau beberapa artikel yang terdapat dalam jurnal ini yang melanggar atau berpotensi melanggar hak cipta yang anda miliki, silahkan menghubungi kami melalui email jkn@ub.ac.id
Aspek legal formal terhadap akses setiap informasi dan artikel yang tercantum dalam situs jurnal ini mengacu pada ketentuan lisensi Creative Commons Attribution (CC BY NC). Penulis dapat menggunakan artikel dalam jurnal ini untuk disebarluaskan untuk kepentingan non-commercial.
Semua Informasi yang terdapat di jurnal ini bersifat akademik. Jurnal ini tidak bertanggung jawab terhadap kerugian yang terjadi karana penyalah gunaan informasi dari situs ini.
 
Jurnal Ilmu Keperawatan is licensed under https://creativecommons.org/licenses/by-nc/4.0/